Gingerbread Loaf with Peppermint Cream Cheese Frosting is a holiday treat you and yours will absolutely LOVE this season! It makes a beautiful holiday food gift, and tasty morning, noon, and night snack.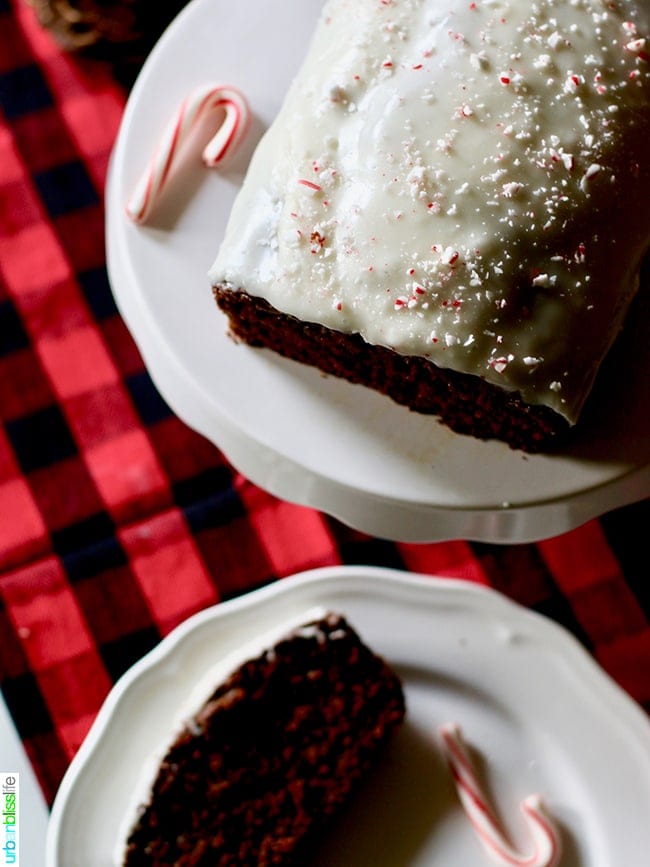 Have you ever woke up with a very specific hunger craving?
On the morning of the first phase of my tooth implant surgery, I woke up with a wicked craving for gingerbread loaf.
I mean: wicked craving.
I had to make it.
Where did this craving come from? I had no idea, but I couldn't shake it. I tried to get some work done that morning, but all I could smell was ginger and molasses and all I could imagine was biting into a soft, pillowy holiday bread.
So as soon as I could, I whipped up a gingerbread loaf... and then sadly had to head out to my tooth implant surgery appointment while it cooled. Which meant: I had to wait even longer before I could satisfy this crazy craving.
Gingerbread Loaf with Peppermint Cream Cheese Frosting
When I finally could bite into this a few days later, it was still honestly DIVINE.
Oh my heavens. I love this holiday bread. It's got all of the amazing seasonal spices rolled into one tasty treat that you could enjoy morning, noon, and night (and definitely late night too!).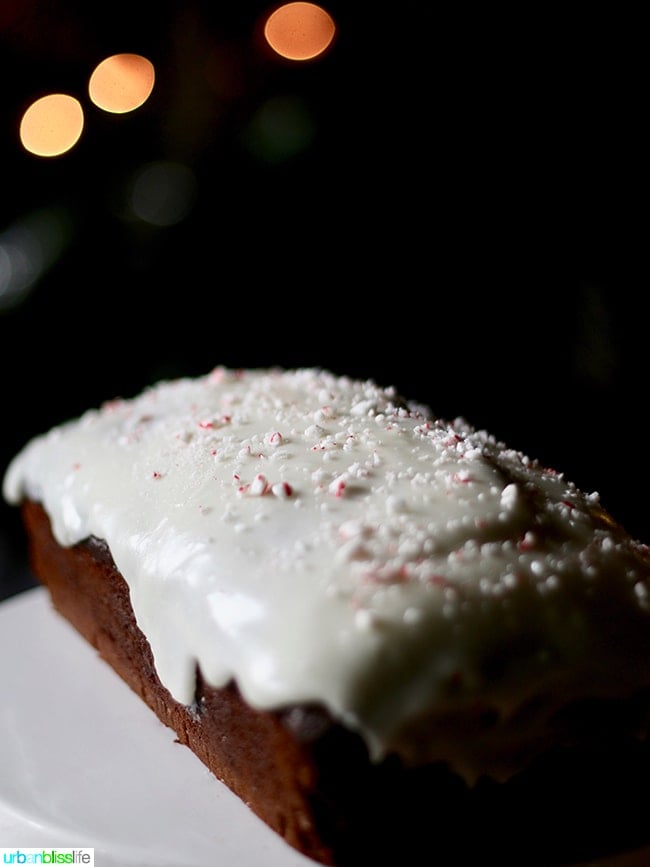 I've made my soft ginger molasses cookies each holiday season since I can remember, and I used many of the same ingredients as the base for this loaf.
I wanted it to be a rich, decadent gingerbread loaf. So it has a good amount of molasses and holiday spices.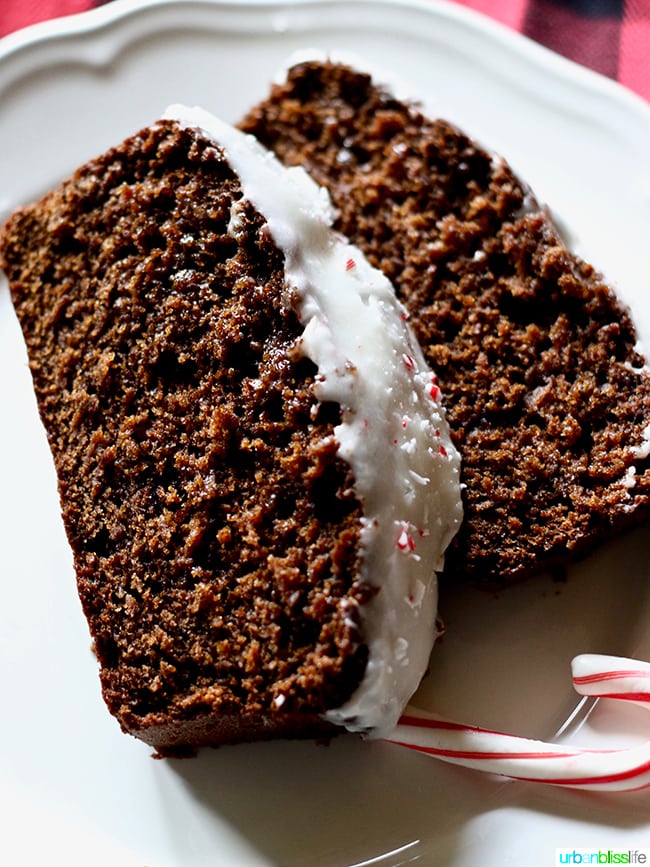 When you make this Gingerbread Loaf with Peppermint Cream Cheese Frosting, your house will smell AMAZING!
The cinnamon, ginger, all spice, and cloves fill the air with so much holiday cheer. I love it!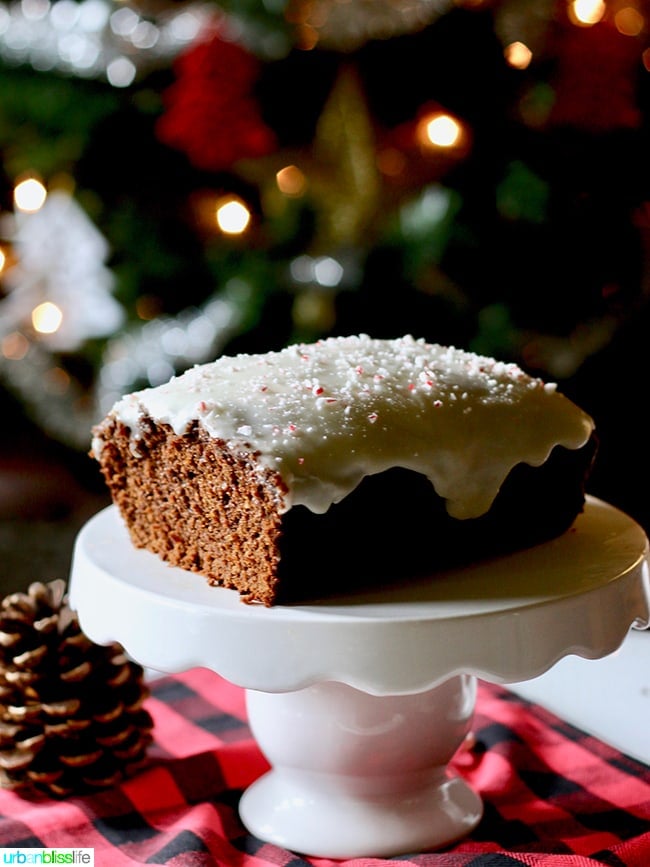 This is a great baked treat to give as holiday gifts to teachers, neighbors, and friends. It's also a delicious dish to bring to holiday parties.
Or simply enjoy a slice or two of this gingerbread loaf with a warm cup of coffee, hot cocoa, or tea by the fireplace. It makes for a hearty afternoon snack on a cold winter day.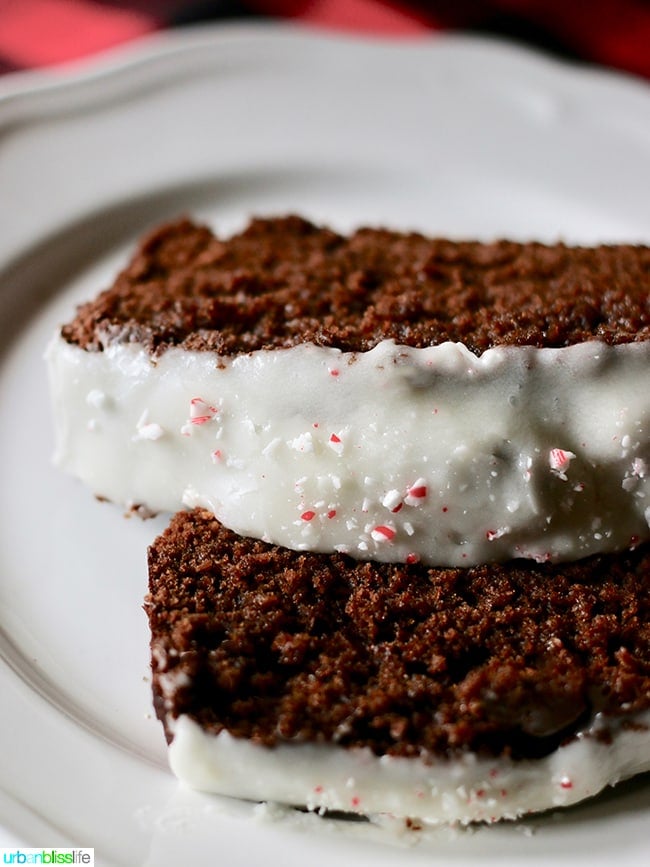 Peppermint Cream Cheese Frosting
I was going to make a classic icing drizzle to top this gingerbread loaf, but instead, I made a peppermint cream cheese frosting.
Peppermint is a flavor that can easily overpower any dish, so I used a minimal amount in the frosting.
Then I crushed a couple of candy canes and sprinkled the crushed canes over the top for added flavor and crunch.
My daughter loves this gingerbread loaf with peppermint cream cheese frosting! I've promised her that we'll make it again before Christmas.
And, since I couldn't really eat this until the second day after my tooth implant surgery, I can attest that it keeps well for up to a week if kept in an airtight container. I was SO happy when I could finally enjoy this tasty treat! It was even more delicious than I had imagined after the amazing aromas filled my house for days, teasing my tastebuds.
Gingerbread Loaf with Peppermint Cream Cheese Frosting Recipe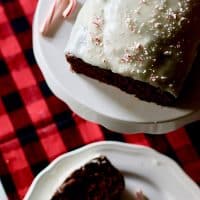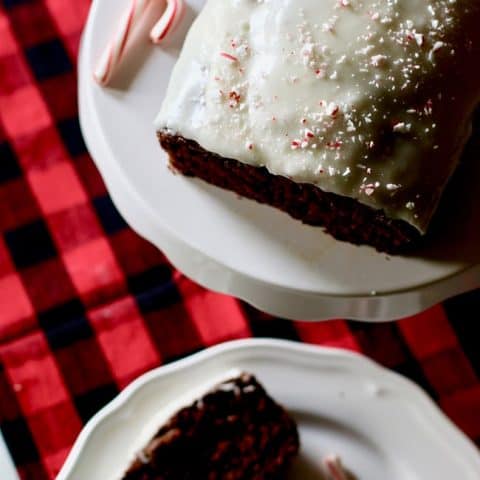 Gingerbread Loaf with Peppermint Cream Cheese Frosting
This Gingerbread Loaf with Peppermint Cream Cheese Frosting is a delicious treat to serve at holiday meals or to enjoy with a cup of coffee or tea any time of the year.
PRINT
PIN
RATE
Ingredients
Gingerbread Loaf
2

cups

all-purpose flour

¼

cup

granulated sugar

1

teaspoon

baking soda

1

tablespoon

ground ginger

1

teaspoon

ground cinnamon

¼

teaspoon

ground allspice

¼

teaspoon

ground cloves

½

teaspoon

salt

½

cup

8 tablespoons/1 stick unsalted butter, melted

¾

cup

molasses

1

cup

buttermilk*

see notes for dairy-free option

2

teaspoons

vanilla extract
Instructions
To make the Gingerbread Loaf
Preheat oven to 350 degrees farenheit.

Prep loaf pan by greasing it lightly with butter and then lining the bottom and sides with parchment paper.

In a large bowl, whisk together flour, sugar, spices, salt.

In a separate medium bowl, whisk together melted butter and molasses until well blended. Beat in the eggs and then add the buttermilk and vanilla. Then slowly add the butter and egg mixture (the wet ingredients) to the dry ingredients, mixing until well-combined.

Pour batter into loaf pan. Bake for about 50-55 minutes. Do the toothpick test and if the toothpick comes out clean after sticking it gently through the middle of the loaf, then it's done.

Cool in the pan for 5-10 minutes. Gently lift out of the pan and place on a cooling rack until it has cooled to room temperature.

Once the loaf is completely cool, spread Peppermint Cream Cheese Frosting evenly over the top of the entire loaf, and then sprinkle crushed candy canes on top.
To make the Peppermint Cream Cheese Frosting
In a stand mixer, cream together the butter cream cheese, powdered sugar, vanilla, peppermint extract and milk until smooth.
Notes
* I make dairy-free buttermilk by pouring a cup of almond milk into a glass measuring cup, then adding 1 tablespoon lemon juice. Allow to sit for 5 minutes, then mix and use as buttermilk in the directions.
* You can substitute vegan butter for regular butter if you wish
* You can substitute
Tried this recipe?
Please leave a star rating and comment! Then snap a pic of your dish and share it on social media. Tag @UrbanBlissLife and #UrbanBlissLife!
Nutrition information is a general estimate. Actual nutrition details may vary depending on the exact foods & brands you use to make this recipe. It does not take into account any substitutions, toppings, or optional ingredients.
This gingerbread loaf is seriously SO good, and I hope you try it and love it as much as we do!
PIN THIS: