A lovely meal deserves an equally delicious wine. I'm a firm believer in there being no perfect wine pairings; we each respond differently to food and wine flavors. You might find a dish to be quite mild but when paired with a Chardonnay, you taste more of the fruit elements of the dish; meanwhile, others may immediately pick up strong spice notes to the same dish, and decide it calls for a bright Pinot Gris instead.
Or you might just think, "It doesn't break the bank, it's good, let's drink it with whatever we've got!" And that's that. I'm totally in this camp most of the time, so I get it, my friends.
That being said, I also know that we can all use a little help from time to time in selecting wines, especially for big holiday occasions. So I've created this list of Top Holiday Wine Pairings to help give some direction to those who want to put together some thoughtful pairings, but aren't sure where to start.
Top Holiday Wine Pairings
The holidays are an excellent time to go with one tried and true favorite traditional wine, and also try something new from a new-to-you vineyard, new region, new blend.
And, when in doubt, go for an Oregon Pinot Noir. I have found that an outstanding Oregon Pinot Noir can pair well with almost any dish: sweet or savory, light or rich, mild or spicy.
Here are my personal Top Bliss Picks for Holiday Wines to pair with your festive meals.
FIRST COURSE
2011 Argyle Vintage Brut ($27)
I'm a fan of kicking off holiday celebrations with a bit of bubbly, and no vineyard does bubbly quite like Argyle Winery. The Oregon vineyard offers a bounty of bubbly options, from a sweet Brut Rose to a rich Black Brut. The Vintage Brut is my personal favorite, as it's an elegant wine that is versatile: it pairs well with upscale hors d'oeuvres such as oysters to a plate of down-home Ritz crackers and cheese.
2012 Hawks View Cellars White Pinot Noir
As I've written about before, the Hawks View Cellars White Pinot Noir is above and beyond any other white pinot noir I have ever tasted. It is bright with light fruit notes, but still fuller bodied than your traditional white wine. Made with 100% Hawks View Cellars Estate Pinot Noir, this is an excellent wine to kick off your holiday festivities. For one thing, many people still have not tried a white pinot noir, and it makes for an excellent conversation starter. Second, I have found that it pairs well with most cheeses, nuts, and fruits, as well as light appetizers like shrimp scampi and salmon blinis.
Mionetto "IL" Spr!z (SRP $12) & Mionetto Prestige Organic Prosecco (SRP $16):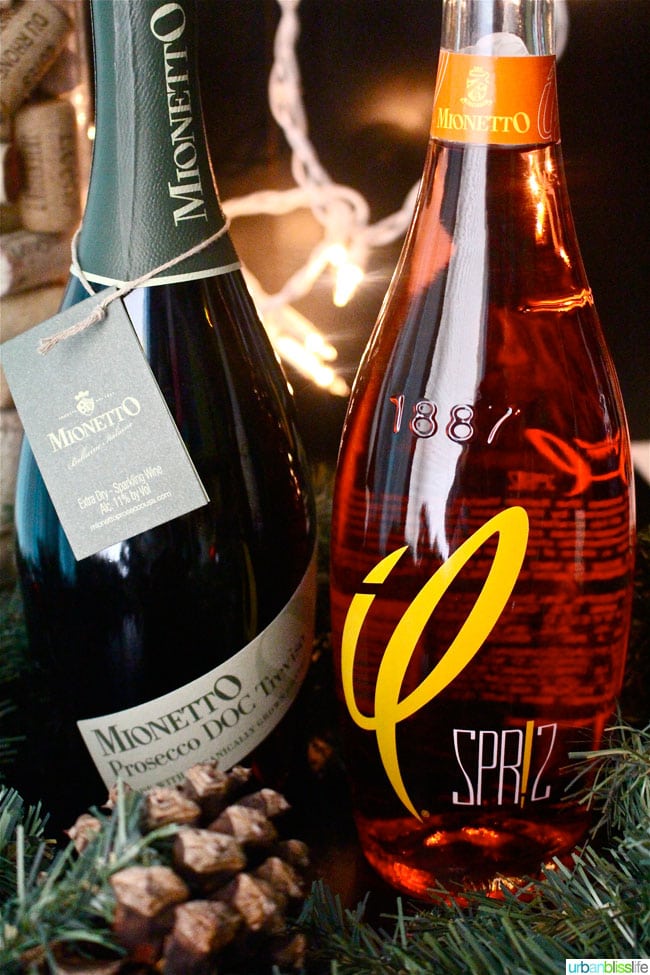 If you're looking to save a bit on the initial party wine pairings, two unique and well-priced wines that could go well with your holiday fete are from Mionetto. I try to always have a bottle of Prosecco in the house for when girlfriends stop by, or last minute brunch gatherings, and the delicate bubbles and creamy texture of Mionetto's Prosecco would make a delightful start to any holiday party.
Meanwhile, Mionetto's "IL" Spr!z is a great conversation starter due to its bold orange color alone. It is a "premium frizzante" with natural colors and flavors of blood orange and select herbs. Apparently, the proper way to serve it as an aperitif, is to pour it over ice and garnish with an orange slice. It's an excellent apertif to prepare as guests arrive and welcome them into your home.
MAIN COURSE
While I normally spend $20 or less on everyday wine, the holidays are definitely time to break out the extra special vintages. The next three wines listed here may cost more, but I believe they are absolutely well worth every penny for your holiday celebrations.
I discovered the Phelps Creek Vineyards Cuvee Alexandrine Pinot Noir recently on a girls' day trip to Hood River, Oregon. The wine is a lovely treat from the first to the last sip. I LOVED it. It's a big wine with rich dark cherry notes and a bold, smooth finish. Love this for so many different main courses, from a bourbon smoked turkey to herb crusted lamb.
During an anniversary trip to Sonoma last year, my husband and I fell head over heels in love with Jordan Estate Wines in the Alexander Valley. The Cabernet Sauvignon is INSANE. This is an elegant ruby red wine with hearty dark fruit notes and a smooth, lingering finish. The hints of vanilla and spices add interesting layers to this wine, making it a slightly more complex wine that pairs so well with beef or lamb.
For my husband's 40th birthday last year, we took a road trip out to the Red Mountains of Washington, where we enjoyed the most amazing wine tour at Terra Blanca Estate Vineyards. We fell in love with their wines, and in particular, the 2009 Onyx. This robust red is a blend of 53% Cabernet Sauvignon, 41% merlot, 3% Petit Verdot, 2% Cabernet Franc, and 1% Malbec. It is seductively smooth, with deep, rich notes of dark fruits and cassis. It's an excellent wine to pair with almost any holiday meal main course, from turkey to brisket to stews.
DESSERT
I'm not a traditional dessert wine drinker. I love Portugal, but more for their stunning beaches, friendly people, and beautiful tableware versus their Port wines. So for dessert, I'm suggesting you go with either traditional bold reds that pair well with holiday pies and cakes, or finish with some bubbly to pair with lighter desserts (or on its own!).
Nipozzano Riserva 2010 Chianti Rufina
This ruby red Chianti is dominated by black cherry notes, with hints of licorice and spice. It is a full bodied wine that pairs well with hearty meat main courses, such as beef stew or prime rib, but it would also work well as a dessert wine paired with rich aged cheeses, exotic olives, and spiced nuts.
BONUS WINES
I've also recently discovered some wines that might not make my personal Top Holiday Wines list, but they are all excellent, solid wines to bring as hostess gifts or to enjoy as additional treats at your next holiday meal.
Casa Ferreirinha Papa Figos Red 2012
With a rich, deep red hue and intense bouquet, this red wine pairs well with a variety of dishes, but I'm going to suggest you enjoy it with a big, bold red meat entree. It has bright notes of strawberries and chocolate, and has a lingering finish, which I think would pair well with an intense brisket or beef tenderloin.
O Wines: Chardonnay ($10.99) and Red Wine ($12.99)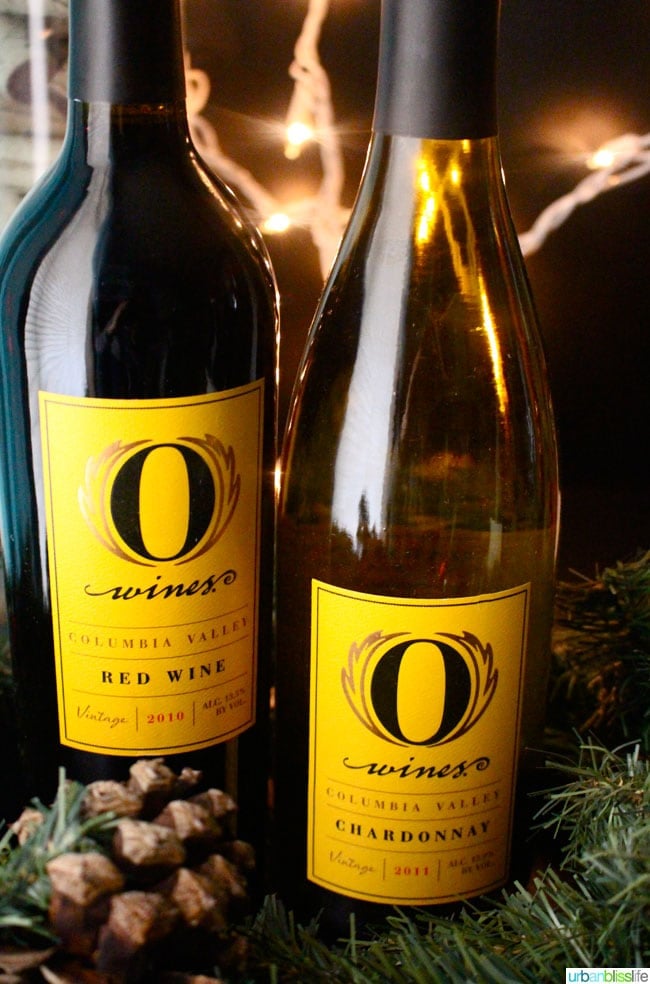 Sourced from Washington State vineyards, O wines are wines with a cause. The O stands for opportunity, and proceeds from the wines provide scholarships to low-income, capable young women so they can achieve their greatest potential through education. Each purchase of O Wines 2011 Chardonnay and 2010 Red Wine helps send young women to college through the O Wines Opportunity for Success Scholarship program, which has raised more than $300,000 to support 52 college scholarships so far.
Livio Felluga Pinot Grigio ($25)
This classic white wine is a crisp, elegant wine with notes of golden apple. It would pair well with roast turkey, pork tenderloin, and a multitude of side dishes at your holiday soiree.
Monsanto Chianti Classico Riserva ($25)
I love a good Chianti, and this food-friendly blend of Sangiovese, Canaiolo and Colorino can be a good companion for your holiday turkey, or to enjoy on its own.
Rocca Sveva Ripasso ($22)
If you're serving wild game or rich red meat entrees at your holiday gatherings, consider picking up a bottle of this Ripasso for the table. Ripasso wines are crafted from a labor intensive process, and the result is a dry red wine with rich aromas of cherry, blackberry, raspberry, and hints of vanilla.
What wines will you be serving up at your holiday gatherings?
More Holiday Wine Articles