This post is sponsored by Enbrighten Café #enbrightenlife. All opinions and photos are my own.
---
Need some tiny backyard ideas? Create a cozy extended outdoor area to help your family enjoy the longer summer nights!
Summer is upon us, my friends. I know many Mid-West schools and East Coast schools are already out of school for the summer. My kids don't get out of school until mid-June, but we're anticipating hot summer weather this coming week!
Summers in Portland, Oregon are the best. I prefer to travel the other 7 months out of the year and spend our five glorious sunshine months (June-October) in town, where the weather is perfect: not too hot, not too cold, and not humid.
We spend a lot of time outdoors, and this year I wanted to do something a little different with our outdoor space.
You see, our backyard is fairly small. We have a little patio with our grill and patio furniture, and that's usually where the adults cozy up. While the kids join us on the patio, too, seating can get pretty tight.
This year, I wanted to create a designated separate space just for them, where they can kick back, relax, and read/eat/nap under the beautiful summer sky.
Creating this extra hangout space on the adjacent lawn was the perfect solution. The kids could have their own cozy space but still be close to the adults and part of family summer fun.
Here are some key elements to creating a cozy extended outdoor family hangout space on your lawn:
A rug, oversized beach towel, or blanket. This helps define the space, and is a whole lot more comfortable than laying down on the grass.
Mixed seating. In our space, I used some plastic adirondack lawn chairs, some lawn cushions, and of course, there's additional seating on the blanket.
Small tables. Anything with a level top and sturdy base can be used as a lawn table! I used wood crates and, when it's not in use, our Coolest Cooler. The crates are great because whenever you need to use your lawn space or if it rains, you can flip the crates back over and place any books/toys/plates/cups, etc. inside the crates and move things inside quickly and easily.
The Right Lighting
During the summer months, we love staying outside until past dark, so finding the right lighting to help illuminate our new additional kid hangout space was important.
I was sent one 36-foot strand of Enbrighten Café lights, and while these lights can be used indoors as well as outdoors, I knew they would be perfect for the new flexible outdoor kid hangout space.
We have other lights, also, in our outdoor area, but here's what I really love about Enbrighten Café lights:
The shape. They look just like the large outdoor lights that you see at your favorite outdoor cafe space.
They are LED lights, so they're energy efficient and, I am told, that we'll never have to replace them. Seriously! I'm putting that to the test and will report back if I do ever need to.
While these can definitely be used indoors, they are built tough enough to be impact resistance and weather proof year-round, which is what I needed when planning this expanded outdoor seating.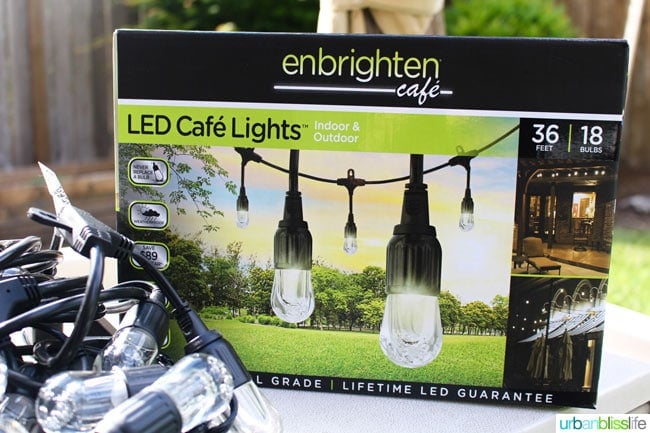 The final thing that I think is super cool about these lights is that you can set them on a timer and adjust them from your phone. You just download the free Avi-On app. This app is actually also great to use on various indoor lighting options as well.
Flexible Outdoor Space
One thing I really love about this space is that it's totally flexible: the kids hung out here the other night, but then when my son had friends over during the day, it was so easy to move everything aside and let the kids play on the lawn.
What other items would you add to this space?
Enter to win
You can enter to win one of two room makeovers worth $400! 10 winners will also be chosen to win one 24-foot string of Cafe Lights similar to the one in this post!
This post is sponsored by Enbrighten Café #enbrightenlife. All opinions and photos are my own.