Traveling to Oregon? Stop by The Oregon Garden in Silverton for a visual feast of gorgeous color and tranquil botanical beauty. And be sure to check out my review of The Oregon Garden Resort.
Sometimes, a girl's just gotta get away.
This summer, a girlfriend and I skipped town mid-week and headed just about an hour south of Portland, Oregon for a relaxing girls' getaway.
We were treated to a lovely stay at the Oregon Garden Resort, which overlooks the 80-acre Oregon Garden.
Jump to:
The Oregon Garden
The Oregon Garden is a stunning botanical wonder that opened in 2001, and consists of several different themed gardens.
It's a wonderful place to spend a morning or an afternoon, wandering from garden to garden.
This is mostly a self-guided garden, although there are free tram tours that take 25-minutes and you can get on and off at any of the six stops throughout the garden.
While you're here, be sure to stop for a bit at each garden, simply soaking up the beautiful pops of color and foliage.
If you're visiting from out of town, the Oregon Garden Resort (pictured above) opened in 2008 and is a wonderful place to stay. Read my full review of the Oregon Garden Resort.
Gorgeous color year-round
The horticulture staff at the garden does an amazing job at planting beautiful plants and flowers with each season.
Here's a look at some of my favorite flowers that were blooming during mid-summer.
Silverton Market Garden
One of the 20+ specialty gardens that can be found at the Oregon Garden is the Silverton Market Garden.
Here, many of Oregon's 147 agricultural products grow, including berries, grass seed, and hops.

You can also find egg-laying chickens in this garden, as well as the Oregon Garden Information Booth.
Children's Garden
The Children's Garden is a true delight for kids and adults alike. The sand pit allows kids to dig for dinosaur bones, while you can also play in a hobbit house or enjoy the miniature train garden and marvel at the adorable large shrub sculptures in fun shapes!
A-mazing Water Garden
This garden consists of a series of water areas that combines wildlife habitat and treated wastewater recycling.
Northwest Garden
One of the Oregon Garden's first completed gardens, the Northwest Garden showcases plants and trees that thrive in the Pacific Northwest. Here's a look at some of my personal favorites:
Bosque
Near the center of the Oregon Garden, is the Bosque.
This plaza hosts a collection of 40 planter boxes each containing a single Pacific Northwest Maple. The reflection off the water at sunset is particularly stunning.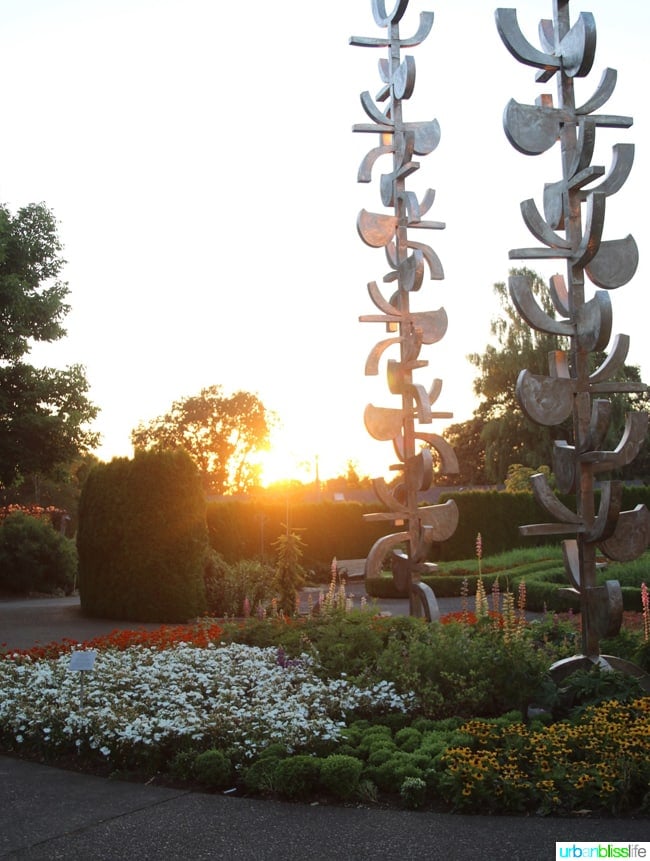 Special events
The Oregon Garden hosts a large number of events that are open to the public throughout the year, as well as private events.
From yoga, movies, art, and music, you'll find all kinds of fun family-friendly events year-round. I'm told by friends that the winter holidays are especially magical here at the Oregon Garden!
When to go
This is a magical place that transforms in front of your eyes as the sun goes down. If you are able to attend an event that takes place around sunset, I highly suggest you do so. The garden at this time is absolutely breathtaking.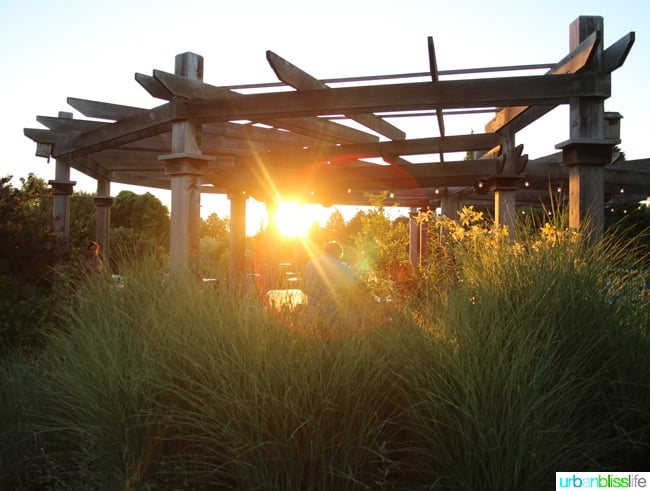 I couldn't take my eyes off the sunset everywhere we went in the garden during our visit.
That said, we also visited the garden mid-day, and it was just as lovely. Go anytime of year, anytime of day -- just GO to the Oregon Garden. It's a beautiful retreat from your everyday stresses and so close to Portland!
Visit
879 W. Main Street
Silverton, Oregon 97381
503-874-8100
http://OregonGarden.org
info@oregongarden.org
HOURS
7 days a week, 365 days a year
May - Sept 9am - 6pm
Oct - April 10am - 4pm
---
All photos are the property of Marlynn Jayme Schotland and Urban Bliss, LLC, and are copyright-protected.
---
More travel ideas
Family Travel to Lake Como, Italy
5 Tips for Choosing a Family Vacation Rental Home
Thanks to the Oregon Garden for complimentary admission. As always, all opinions and photos are my own.