Oh how I LOVE traveling with kids!
During our latest adventures overseas, we endured some unforgettable moments.
Family travel adventures
Bliss Girl (who has never really vomited before) got sick on our second day there, and proceeded to vomit intermittently over the next 12+ hours.
We somehow managed to break an elevator promptly upon arrival (we like to make an entrance).
My dental bridge broke off, making it challenging to chew food...for the next 10 days (of course, that didn't stop me!).
We got stuck in an Italian trio of ridiculously marked roundabouts for over an hour, and one of the adults in the car may or may not have clearly spouted a swear word or two in front of the children (hint: not me) while we furiously kept checking our mobile maps, which were all incorrect.
And the most memorable mishap: Bliss Girl ended up having out-of-the-blue, uncontrollable diarrhea while we were in the middle of driving through the 17 km Gotthard tunnel.
Yes, that's right: I held a plastic bag while my daughter had the poops... in a moving car... in a foreign country... driving through what is the LONGEST. FREAKING. TUNNEL. ON. EARTH, with no off ramp for miles and miles.
And you know what? Not ONE DROP of it got on the car. Not one. Hubby and I had a bag and tissues ready, and I summoned up every mad Mom skillz in my being to deftly maneuver that crappy (pun intended) situation. That totally unlocks Ninja Mom Badge, Level 500 for me, don't you think?
Indeed: it was the best vacation we've had in a long time. It was an amazing trip, and even with the vomit, the diarrhea, the lost-in-roundabouts frustration, I'd do it all over again in a heartbeat. If not for me and my own love of travel, then for my kids.
The importance of traveling abroad with kids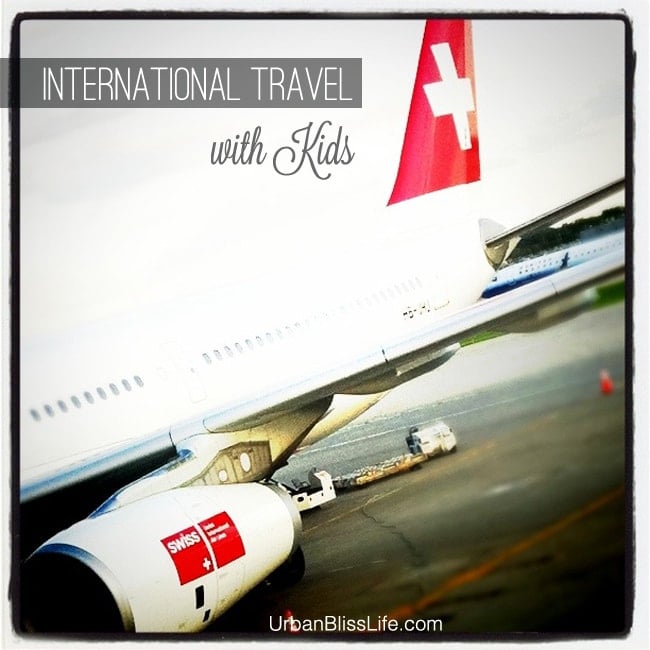 We've been flying to Europe every other year with our children since our oldest was two years old. And each time, traveling with our kids bring new challenges and lovely happy surprises. Yes, dealing with challenging circumstances in a country where you don't speak the language, know the roads, understand all of the subtle unspoken rules of the culture – it can be unsettling at times. And the more kids you have, the more challenging it can be, for sure.
But still, no matter what, I am a firm believer in traveling as often as possible with kids, at any age. Even if you think that, with your family situation, it cannot be done, recognize that there are hundreds of families with one to seven kids traveling across the globe every day. They serve as my continual inspiration. If they can do it -- if we can do it -- so can you!
Top reasons to travel internationally with kids
Why go through all of the trouble to travel internationally with children? Here are just a few reasons we choose to show our kids the world, as often as we can afford to:
We want to show our children that they are a small part of a great, glorious world. No matter where you live, it's easy for children to only see their immediate surroundings as their global view. By traveling abroad with our kids, we expose them to other cultures early on in a way that absolutely cannot be taught in books or movies, only experienced first-hand.
Traveling internationally at a young age gets children comfortable with long-haul travel. Our two kids LOVE flying, and sometimes I think the longer the flight, the better for them. By making the act of flying a fun adventure in and of itself, we instill an excitement for traveling around the world early on.
We want to raise children who are flexible and can handle challenges with a positive attitude. Traveling overseas, kids watch us parents navigate so many new challenges. They observe how we deal with language barriers, driving on new roads, taking unfamiliar public transportation, eating new food. They learn having to find alternative solutions to the way we might handle issues in the states. When our kids see us being flexible, having a go-with-the-flow attitude, and positively rising to the challenges of international travel, then they will be more likely to have that kind of flexibility instilled within them. The value of this skill transcends travel -- it's vital for living a full, rich life on a daily basis.
We want them to see first-hand how we really are all the same. Regardless of race, ethnicity, economics, sexual orientation, faith, and location. We are of the belief that all humans are created equal, and every single life is important. We can tell our children that until we're blue in the face. And they may believe it. But there's nothing in the world that substitutes meeting people face-to-face in other parts of the world to deepen and support this fact.
We want to strengthen their curiosity, creativity, and passion for pursuing their purpose in life. In very young children, international travel may be sensory overload. But trust me: international travel experiences will stick with them always. Suddenly, the constant "Why? Why? Why?" our kids bombard us with at home takes on a whole new meaning. And as parents, we find ourselves stretching to meet those inquisitive queries about life in other countries with answers.
Attitude is everything
When traveling internationally, how you deal with challenges really is everything. Your children model your behavior, and if you choose to view mishaps and challenges as negative obstacles rather than positive learning experiences, your child will also likely have bad memories from the trip. It's important to remember that bad moments are just that: temporary, fleeting moments. It's a good lesson for us adults to be reminded of as well.
The things that I outlined in the beginning of this post? They're no big deal, and could have happened almost anywhere. They could happen on a camping trip or on a trip to visit family two states over. They could happen on the way to the supermarket. This is what I think about when we travel domestically and internationally with kids: difficult things can and may very well happen, and all you can do is parent up and deal with it. For any of the aforementioned listed situations to be a reason NOT to travel is, quite simply in my eyes, ridiculous.
My daughter eventually got better and had a BLAST on the rest of the trip.
The elevator was just as promptly fixed.
I got some Fixadent (oh man do I feel OLD writing that!) to seal back my broken temporary bridge and tried to forget it.
By long (LONG) process of elimination, we eventually found the right exit off one of the roundabouts (which was NOT at all on our maps) and made it back to our hotel in time for dinner.
Bliss Girl almost immediately felt better and we now have a great story to tell/torture her with for the rest of her life.
Always worth it
International travel can be expensive, and maybe your family can scrimp and save for several years just enough to travel abroad once while your children are young. No matter how long it takes you to save, I say do it. Find a way. There is always a way.
And, it is always, always worth it!
More international family travel
What are your reasons for traveling abroad with your children?