Before you pack up that picnic, don't forget to pack these picnic wines and cool wine accessories for the ultimate grown-up summer picnic!
Ever since I was a little girl, I've loved picnics. There's something so sweet and serene about the idea of packing up a picnic basket full of sandwiches, fresh fruit, iced teas and lemonades, and gingham everything. Lots of gingham: napkins, picnic blankets, plates, cups.
Nowadays, I love bringing along some fun picnic wines to add to the festivities. While a good rosé is always an excellent picnic choice (see my Urban Bliss Life Picks for Rosé Wines here), I've found a few more summer picks to help make your picnic even more delicious.
Wines of Sicily
Transport you and your guests to the beautiful island of Sicily, located in the middle of the Mediterranean, with wines made from the region's most popular grape, Grillo. These wines of Sicily are perfect for summer picnics because of their vibrant fruit quality and bright acidity. If you normally love a Pinot Grigio or a Sauvignon Blanc, these are excellent wines that have a similar profile but offer a more unique flavor to them. They have a beautiful light floral aroma and have hints of Mediterranean fruit with each sip. When at the store, look for these wines in the international/Mediterranean wine section and seek out "Grillo" and "Sicilia DOC" on the label.
PERFECT PICNIC PAIRINGS: herbed goat cheese salad, grilled shrimp, cold noodle salad, and a picnic by a beautiful lake or on a boat, wearing large Hollywood sunglasses and a wide-rimmed sun hat.
Sangria Lolea Minis

For a truly fun and festive picnic, pick up a few single size serving bottles of Lolea. These 8-ounce bottles are sold in $19.95 4-packs (I received two mini media samples) and are sure to pep up picnics all summer long at first glance...and they will win you over at first sip. These are artisanal sangrias made with high quality Cabernet Sauvignon and Merlot red wines, fresh orange and lemon juice. Lolea Nº1 also has a touch of cinnamon, and high quality Airen and Moscatel white wine, fresh orange and lemon juice; Lolea Nº2 also has a touch of vanilla.
You can find these at most wine shops and grocery stores nationwide; you can also search the Lolea location finder to find it at a store near you.
PERFECT PICNIC PAIRINGS: enjoy these cold with fresh fruit, prosciutto-wrapped melon, and a backyard or park picnic with lawn games, bocce ball, and blowing bubbles.
Fruits and Wine
If you love rosé but want a fun fruity twist on the traditional rosé, try the new flavors from Fruits and Wine. Each bottle runs about $10 (above are the media samples I received) and they have blended rosé with some summer fruit favorites. The screw top makes these perfect for parties on-the-go!
Cherry Rosé is a blend of rosé wine and cherry juice and Grapefruit Rosé is a blend of rosé wine and grapefruit juice - both are sweet wines with tart notes from the fruit juice blend. The Strawberry Rosé is a blend of rosé wine and strawberry juice; this one is also a sweet wine, with summery refreshing strawberry notes.
PERFECT PICNIC PAIRINGS: classic picnic sandwiches and salads, and an afternoon pool picnic session with your best friends.
Wine alternative: Go for canned Radler!
Okay, so technically this is NOT a wine, but I just HAD to add it to the mix because this is PERFECT for summer picnics!
I found this at my local Whole Foods Market, and picked it up on a whim. I love radlers, which are blends of beer with some sort of fruit juice. Typically, bars will make radlers that are beer + lemonade, but these cans from Stiegl are made with grapefruit soda. So if you want something sweet but not too sweet like sweet wine, and if you like beer but aren't feeling like something hoppy, check this out.
PERFECT PICNIC PAIRINGS: grilled chicken, corn on the cob, a big bag of chips, loud summer tunes and a backyard picnic with lawn chairs around the kiddie pool.
Wine Accessories
You'll need something to carry those picnic wines and also something to pour them into (I mean, you CAN drink straight from the bottle... no judgment here).
Modern Wine Totes
I'm a huge fan of well-designed wine coolers, but for picnics, chill your wine well ahead of time and then tote them to your destination in these beautiful wine totes by Reluctant Trading. Aren't they gorgeous? I got these media samples sent to me after falling in love with them on Instagram and I am truly madly deeply in LOVE with the designs they have and the quality of the canvas!
These are perfect when you're bringing a wine over to a friend's house as a hostess gift, because they can re-use the tote later to take to their own picnics! At just $7.50 each, I would buy up a few and keep them on hand to take for those last minute summer invites.
GoVino wine glasses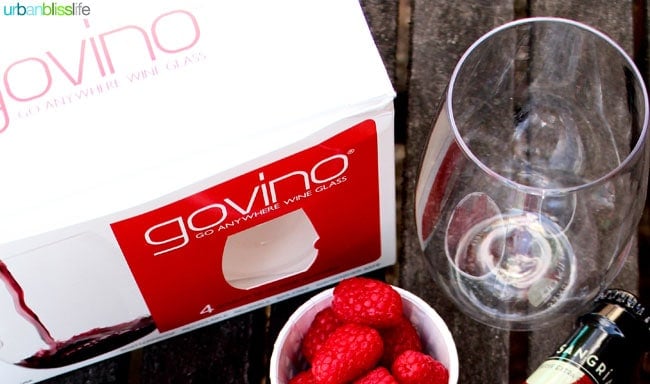 If you've attended any food and wine events in the United States recently, you've most likely enjoyed tastings in GoVino glasses. These shatterproof glasses are reusable, recyclable, and BPA/BPS free...and they are now made to be dishwasher safe! These are perfect to take with you to enjoy your picnic wines.
What wines would you pack for your picnic?
For more wine bliss: