Nutty S'mores cones are a creative twist on classic s'mores! They're so fun and easy to make.
Summer is a great time to gather around a campfire with good friends sharing great tales. And you can't have a campfire without s'mores, right?
Confession time: we don't really go camping (I know, I know: and I'm an Oregonian! But: we are going cabin camping...more on that soon!), so when we make s'mores, we make them backyard style: over a fire pit.
If you're looking to boost your s'more repertoire this summer, check out this fun, creative twist on classic s'mores: Nutty S'mores Cones.
Just in time for National S'mores Day on August 10!
Nutty S'Mores Cones
We start with a fire pit, add waffle cones, mini chocolate chips, mini marshmallows...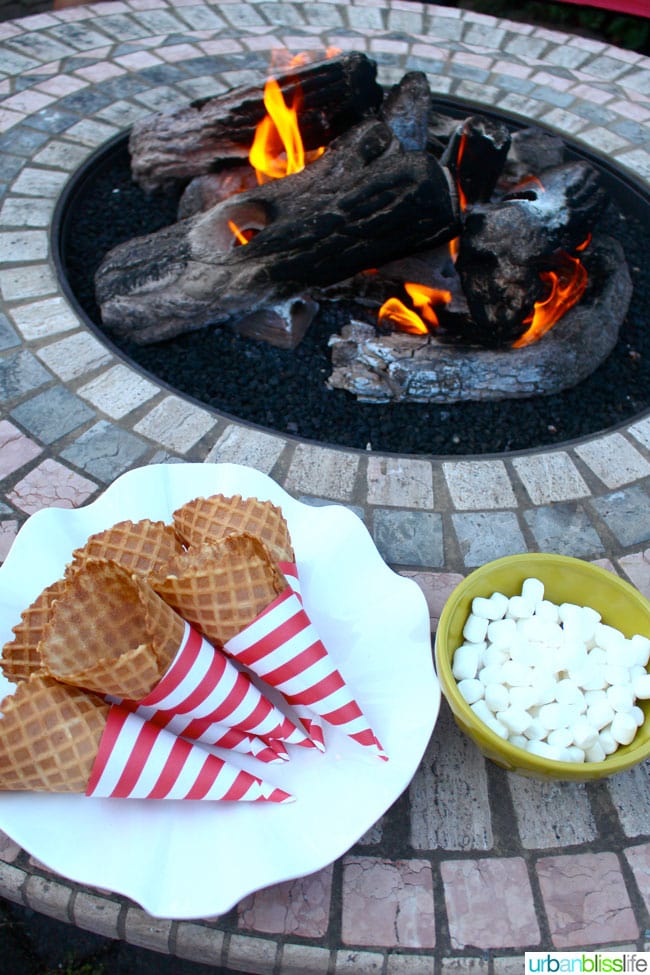 Then we add options for dried fruits (we like mixed berries) and a variety of flavored Santé Nuts.
Busy mom side note: I love the pouches that these Santé Nuts come in because they are perfect to take to the beach, on hikes, and to keep in the car for those marathon chauffeur days.
In fact, I have a pouch of the Santé Nuts Candied Walnuts in my car right now. We took a pouch of the Santé Nuts Roasted Salted Pecans to the beach with us last weekend!
Look how happy it looks sitting there in the sand. :-)
The crowd favorite in our group seemed to be the Cinnamon Pecans. They are, in my opinion, deliciously addictive.
Choose your toppings
My friend's son packed his nutty s'mores cone with a nice balanced mix of marshmallows, chocolate chips and Santé Nuts.
My other friend's daughter went with the ooey gooey stuff on the inside and topped hers off with Santé Nuts all on top.
Then we wrapped each Nutty S'mores Cone in foil. We labeled them with each kid's name using a Sharpie. This was a brilliant idea by one of my friends -- helps take the guesswork out of figuring out which cones belonged to each kid!
My friend grabbed a grill top and we placed the wrapped cones on top next to the fire. You can also place them over indirect heat on top of a grill if you don't have a fire pit. Or, if you are camping, go ahead and place them next to the fire.
And then, we waited . . . the hardest part!
Because we used direct heat from the fire pit, which can provide inconsistent heat thanks to Mother Nature's wind power, we had to check each cone a few times to make sure they weren't underdone or overdone. Once we saw the top ingredients were slightly melted, we allowed the foil to cool just a bit before serving.
I love how each child's Nutty S'morse Cones turned out so different! All were delightful summer treats of melty yummy goodness.
Delicious and so much fun! I love setting up treat bars with large groups because each person gets to put more of what they want and make each treat their own.
These Nutty S'mores Cones seemed to be well-received by these taste testers :)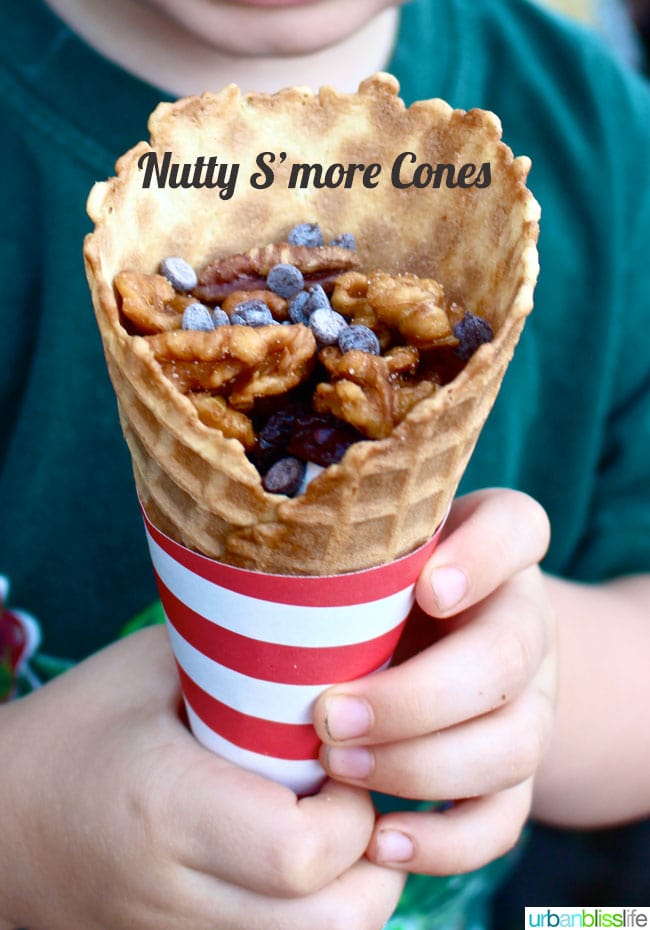 Ingredients
Waffle cones

Mini chocolate chips

Diced fruits

such as pineapple, strawberries, grapes, kiwi

Sante Nuts

chopped
Instructions
Preheat oven to 275 degrees.

Place all ingredients in individual bowls (like a toppings bar) on a table with spoons in each bowl. Have guests fill up a waffle cone with the toppings, then loosely wrap each filled waffle cone with aluminum foil and place on its side on a baking sheet.

Place in oven for 2-3 minutes or, if camping, near a campfire or on indirect heat in a grill.

Allow aluminum foil to cool and serve.
And check out this fun video featuring Chef Duran.
What would YOU add to make these Nutty S'mores Cones your own?
Disclosure: this is a sponsored post. All opinions and photos are my own; video and recipe are courtesy of Santé Nuts and Chef George Duran.