We had one of those crazy busy nights recently, so we tried out the new Horizon Organics Gluten-Free Mac & Cheese. Simply put, my kids loved it!
My kids have grown up helping me out in the kitchen, especially when they were younger and they were fascinated by the measuring and mixing involved with baking yummy treats. Now that they are 7 and 10-years-old, with busy lives of their own between homework, friends, sports, and other activities, I have found that they don't necessarily want to help in the kitchen as much. Sometimes I really miss my little helpers!
However, they did get a renewed interest when my doctor put me on an elimination diet to help pinpoint the triggers for my chronic eczema. They had all sorts of questions about how food relates to health, and what types of foods I could eat and could not eat, and why.
Since then, one of the things I avoid when possible is gluten. I now know that I am sluggish and bloated when I eat gluten, and I have brain fog - not a good thing when you're running a business, a blog, and raising a family. While I try to cook easy and quick dinner recipes from scratch when I can, there are definitely times when my family needs super quick last minute meals. And if we're going to reach for a box of something, I prefer it to be organic and gluten-free.
Horizon Organics Gluten-Free Mac & Cheese fit the bill.
My daughter actually willingly stepped up to the stovetop and helped stir the Mac & Cheese. It also gave us the chance to talk about organic versus non-organic food.
The Horizon Organics Gluten-Free Mac & Cheese currently comes in a White Cheddar Cheese flavor, and I found it right next to the other mac & cheese options in the pasta aisle at my local grocery store. Because I'm mostly dairy-free, I used coconut milk and vegan butter instead of regular milk and butter.
I have to say: it was delicious and totally did the trick on this busy night where we needed a quick, easy dinner idea.
Be a Mac & Cheese Mix-In Master
Mac & Cheese is one of my favorite dishes to make, because there are so many ways that each family member can customize their dish. Some of my favorite mix-ins for Mac & Cheese include:
bacon
lobster
spinach
carrots
peas
organic hot dogs
broccoli
garlic
On this particular night, I chopped up some bacon, some carrots, and cooked some peas and set them out for the kids to choose their own toppings.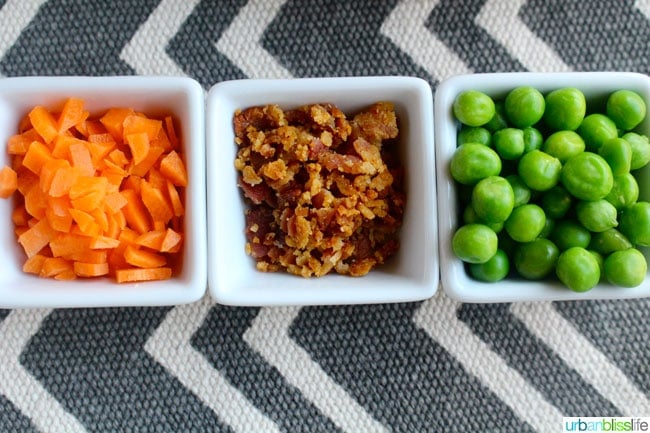 I honestly wasn't sure how my kids would go for this new Mac & Cheese. My son is becoming more adventurous and trying more new foods, but my daughter lately has been very picky.
My son put in all three toppings, and gave the Horizon Organics Gluten-Free Mac & Cheese a hearty thumbs up! He loved it, and asked to get more in the future.
My daughter, whom I thought would shun all of the toppings completely, surprised me by adding bacon and carrots to her Mac & Cheese. . . and EATING IT!
For those of you with picky eaters at home, you know that just getting them to try a new food is more than half the battle. If my kids try something, they are expanding their palates, learning more about different flavors and textures, learning more about their own tastes, and developing a broader sense of what good food can be.
For more information about Horizon Organics products, follow them on Facebook and Twitter.
What are YOUR favorite Mac & Cheese mix-ins?
This is a sponsored conversation written by me on behalf of Horizon Organics. The opinions, photos, and text are all mine.