If you're traveling to western Montana, be sure to stop by for a pint (or two or three) at The Great Northern Brewing Company in Whitefish, Montana. From the Going to the Sun IPA to the Wild Huckleberry Wheat Lager, you'll truly get a taste for the local flavors of this sweet ski town.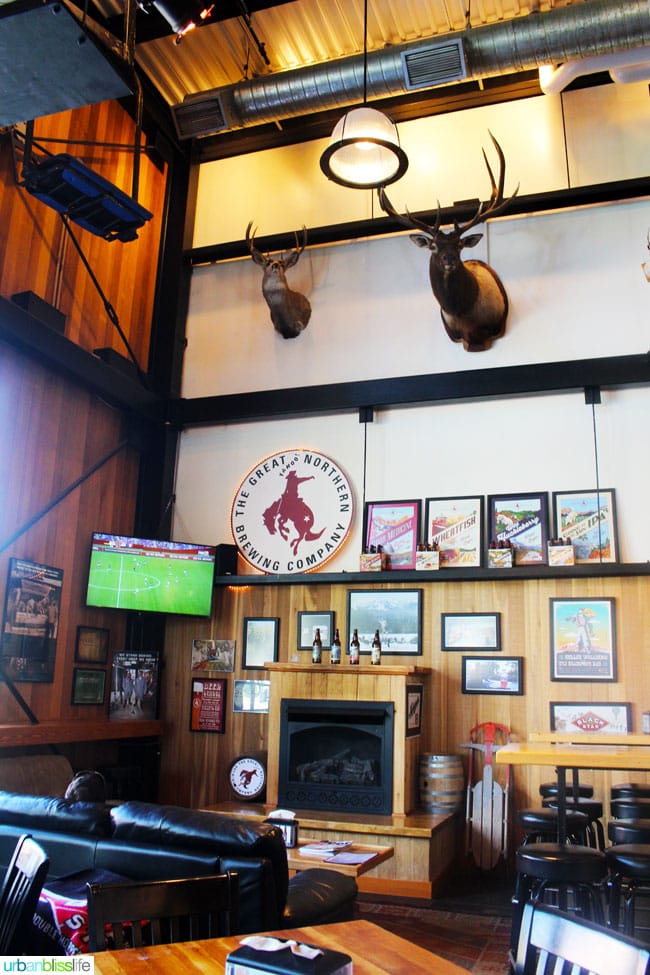 During our road trip to Western Montana, one of our favorite stops was in Whitefish, Montana. Home of the Whitefish Mountain Resort on Big Mountain, this adorable ski town has a population of around 7,000, and a downtown area full of cute shops, great restaurants, and a couple of local breweries. It's also super close to Glacier National Park, so if you're planning a trip out to Glacier, I'd highly suggest popping into Whitefish for a couple of hours.
One of the town's coolest stops is the Great Northern Brewing Company. The tallest building in Whitefish at three stories high (it's a tiny town and I love it so), this is a fabulous place to stop by for lunch or dinner, whether it's just you and your friends or you and your family.
The main floor (shown in the photo above) has comfy couches and some tables, plus a small bar and shop. I picked up what has since become one of my favorite t-shirts here!
Upstairs, you'll find a larger bar, plus two spacious rooms filled with tables, televisions, and darts.
In addition to seasonal beers, they always have four flagship beers on tap and in stores:
Wheatfish Wheat Lager
Going to the Sun IPA
Wild Huckleberry Lager
Good Medicine Strong Red Ale
Before heading up on our tour of the brewery, we were given some beverages to enjoy during the tour: I got a glass of the red ale while hubby got a pint of the Wheatfish.
The kids were treated to some sparkling lemonade, and I have to take a moment to thank the awesome folks at The Great Northern Brewing Company for being SO great with our kids. Everyone was so friendly, and I love how their menu includes kid-friendly dishes. They even make their own in-house root beer and serve it as Little Buckeroos for $2 a glass. So fun!
Back to the tour...
Brewery Tour
If you have the chance to take a brewery tour here, I highly recommend it. Much like winery tours are vastly different from one winery to the next, brewery tours are so much more than just a look at how the beer is made. You get a true sense of the history, stories about the founders and the people who work there that you would never read about or hear about elsewhere, and you get to know so much more about the individual beers than you would just sitting at the bar.
The tour lasts about 30 minutes, and our tour guide, Katie, was fabulous. She began by telling us a little about the history of The Great Northern Brewing Company. It was started by Minott Wessinger, the great-great grandson of craft beer pioneer Henry Weinhard, and was built in just six months. It opened in 1995, and Black Star, a double-hopped golden lager, was the brewery's flagship ale. Wessinger brewed Black Star there for seven years before leaving to pursue other projects. But then, in 2010, Wessinger returned to brew Black Star beer once again.
Katie then took us through the process of how their beer is made in their gravity-flow facility, starting with the malt bins. The kids got a real kick out of being able to smell and touch the malt straight from the malt bins.
We then walked up to the third floor, where the the malt goes through a a two roller mill, then the remaining grist goes through an auger in a mash tun. Here, the enzymes convert the starch into the sugars that the yeast eventually will ferment. Then we walked down to the second floor, where the mash flows into a lauter tun.
And this is where I turn into Elaine from Seinfeld and say, " and then one thing leads to the next, yada yada yada... and that's how their beer is made!"
In all seriousness, it was probably one of my favorite brewery tours that I've ever taken. Katie made it fun for all of us, even the kids, answered all of our random questions, and also spoke with such pride and affection about not only the company and the beer, but also about the Great Northern Brewing Company team. It's clear that they're a pretty tight-knit group, who cares a lot about brewing quality craft beers that truly represent Whitefish.
We really didn't get a chance to eat here, because we had dinner reservations across the street, but the draught house has a great menu with classic pub food that the whole family can enjoy. The atmosphere here was so casual and fun; it had a great vibe, and I loved all of the quirky little touches throughout the entire brewhouse (where there's a large sign on one wall that says "Brew like a champ!") and the draught house.

The quotes on the bathroom doors alone are a telling sign of the fun spirit of the Great Northern Brewing Company.
As for the beer? I did really enjoy both the Going to the Sun IPA and the Wheatfish lager the best. The Wild Huckleberry is one I would suggest trying just because you're in Western Montana, and while you are here, you just can't avoid trying all things huckleberry. If you're a fan of hoppy beers, you'll probably love the Good Medicine Strong Red Ale. And be sure to try whatever seasonal or specialty beers they have on tap too! The Frog Hop ale was delicious.
Visit The Great Northern Brewing Company
2 Central Avenue
Whitefish, Montana 59937
Open daily
Summer Tours
Mondays - Thursdays at 3:00 pm
$5 (includes one beer)
Off-Season Tours
$10 and by appointment only. Be sure to call ahead to make your reservation.
www.greatnorthernbrewing.com
Have you ever been on a brewery tour before? Which was your favorite and why?
Read more Travel Bliss: Montana
Many thanks to Glacier Country Tourism and Explore Whitefish for their incredible hospitality while we were in Montana & planning an amazing itinerary for us, and thanks to the Great Northern Brewing Company for the complimentary tour & tastings! The adventures highlighted in this article were comped for review. As always, all opinions and photos are my own.