Happy October! I am still recovering from a week-long work trip to the big island of Hawaii; rough, I know -- you'll hear all about it here on the blog next month, but in the meantime you can watch my GoPro video of Ziplining with Zipline Through Paradise/KapohoKine Adventures.
I left for Hawaii just hours after soaking up four days of indulgent food & drink at Feast Portland. Now that I've had some time to process through photos and maybe think about starting a detox, I'm excited to share a look back at this year's Feast festivities.
I hope you're hungry, because I'm about to lay down a FEAST for your eyes to gobble up!
Feast Portland 2014
The annual 4-day food & beverage festival known as Feast Portland has come and gone (Sept 19-22), leaving in its wake thousands of food-loving attendees now attempting to work off the infamous "Feast 15," Instagram and Twitter feeds flooded over with gushing amounts of food/party/after-party/after-party-party photography, and a collective Feast food coma of epic proportions.
To give you a taste of what Feast Portland 2014 was all about, I invite you to buckle up and enjoy a calorie-free photo ride through the 4-day event.
Williams Sonoma Kick-Off Party
Wednesday, Sept 17
Jacobsen Salt Co.
While Feast Portland 2014 began with official events on Thursday, September 18 with the Sandwich Invitational (see Pechluck's Food Adventures for her Sandwich Invitational recap), Williams Sonoma and local salt celeb (a designation that is so Portland) Ben Jacobsen held an awesome invite-only kick-off party in the new Jacobsen Salt Co. space in SE Portland.
Oregon Bounty Grand Tasting
Friday, Sept 20 and Saturday, Sept 21
Pioneer Courthouse Square
Gorgeous sunshine smiled over Pioneer Courthouse Square and hundreds of attendees who came to sample the best of Pacific Northwest food, wine, beer, and spirits at the Oregon Bounty Grand Tasting.
Whole Foods Market represented with a gorgeous living wall and on-site screenprinted tote bags:

Genius giveaway/promo item from Rewards Network: a sturdy bamboo food tray with wine holder.
Ben Jacobsen, of Jacobsen Salt:

Burgerville's salmon salad -- one of my fave fast food drive thru meals!
Sahale Snacks cashews:

Cacao drinking chocolate poured over Salt & Straw ice cream. DIVINE. This was my favorite pick from Day One of the Oregon Bounty Grand Tasting.
Bendistillery's Crater Lake Handcrafted American Vodka Infused with Fresh Peppers
The Kitchen Aid Chef's Stage featured demos from fave local chefs like Jenn Louis (Lincoln restaurant / Sunshine Tavern)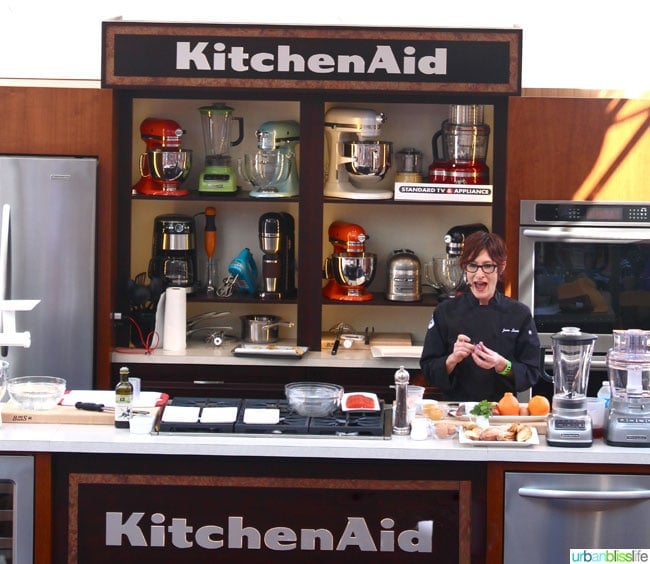 The wine tent was hopping both days with more than a dozen different wineries, including some of my fave Oregon wineries: Ponzi Vineyards and Hawks View Cellars.

My personal fave pour at Feast Portland 2014: Adelsheim Vineyards 2011 Elizabeth Reserve Pinot Noir.
There was so much food -- so much. If you walked away hungry or thirsty from Feast Portland's Oregon Bounty Grand Tasting, you did it all wrong.
Oregon Media Group's High Comfort
Saturday, Sept 21
The Nines Hotel

One of the signature events I attended at Feast Portland 2014 was the High Comfort at The Nines. This event was all about indulgence.
Marionberry glazed donut holes with foi gras ganache and sprinkles, anyone? (From Irving Street Kitchen)
Recently named one of America's Best New Restaurants by Bon Appetit Magazine, Maurice's served one of the crowd favorites of the night: Pain Perdue with Tomatoes and Anise.
Delectable nibble of corn, bay shrimp, chiles from Ava Genes (one the restaurants in Portland that I am still dying to try!).
Gregory Gourdet, Executive Chef at Departure and soon to be on the next season of Top Chef.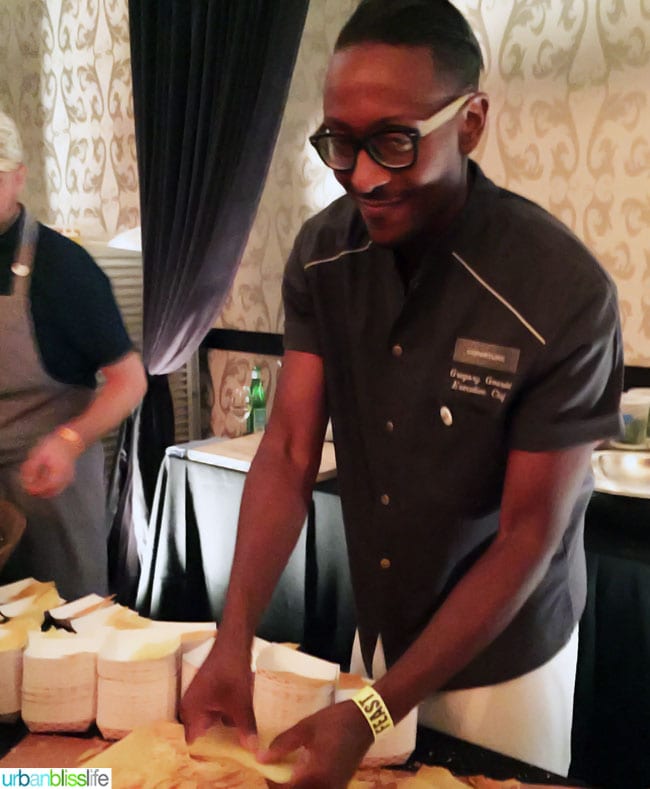 I suspect it was the Hendrick's gin cocktails that started off the debauchery of the evening...
...and perhaps was the source of a few wider smiles in this photo, featuring some of my fave fellow Portland bloggers.
[Front row: Meredith. Middle Row: Kelsey | Jane | Rebekah | Michelle | me | Bee. Back row: Missy | Melissa | Erin]
Washington Wines
Friday, Sept 20
Red Star Tavern
Trade media were invited to a special happy hour celebrating Washington State Wines at Red Star Tavern. It was a wonderful chance to meet with some winemakers and/or sales reps and learn more about wines from our neighboring states.
Some of my faves included: Woodward Canyon's 2012 Cabernet Sauvignon.
2009 Triple Threat from Terra Blanca's Arch Terrace:
Pacific Rim Brute Sparkling Riesling:
The Washington State Wines event offered a lovely happy hour spread to complement the wines, including these beautiful Pacific Oysters:
Eater PDX After Party
Saturday Sept 21
Coopers Hall
There were pre-parties, after-parties, and after-after-parties galore throughout the 4-day Feast Portland event. One of my favorites was the Eater PDX after party held at Coopers Hall. A fantastic place to grab some Alter Ego Cider and one of the best burgers in town on any given day, Coopers Hall was transformed into party central complete with caviar nachos bar, tattoo parlor in the loft upstairs offering real tattoos, and Tillamook Ice Cream truck outside with their delicious Tillabars.
Brunch Village
Sunday September 22
Pioneer Courthouse Square
Feast Portland 2014 wrapped up with a brand new signature event (which I hope will return next year): Brunch Village.
Portland is known for its obsession with brunch, and we Portlanders are used to waiting an hour and a half to get seated at our favorite brunch spots. Brunch Village at Feast Portland allowed brunch lovers to sample some of the best local brunch items in one spot.
Chef Duff Goldman (Charm City Cakes) offered up a Gingerbread Waffle with Cinnamon Whipped Cream and Candied Pecans
Whole Foods Market was on hand with their famous stocked Bloody Mary Bar:

Quail eggs are so adorable. Even more so when they adorn a brunch dish of fried shrimp & grits (sorry: I ate my dish too quickly to take a photo. It was THAT good.).
Black Seed Bagels brought my idea of a classic brunch dish with these bagels and salmon salad.
Special thanks to all involved with pampering us in the Yahoo Media Lounge at The Sentinel hotel. It was a great place to rest between sessions, recharge batteries (literally), and catch up with fellow bloggers and journalists, like my friends Pechluck of Pechluck's Food Adventures and Melissa of Willamette Valley Wonder Woman.
Chef Vitaly Paley and his crew kept us media types well fed with catering from Imperial.
We were treated to some pre-funk libations Saturday night in the Media Lounge, featuring many local and visiting wineries.
I'm in love with this Champagne bottle.
The contents aren't bad either...
Cheers to another great year for Feast Portland! I'm already looking forward to next year!