Oregon's Dundee Hills AVA is the perfect place to spend the day wine tasting some quintessential Oregon Pinot Noir. Here are some top picks for Dundee Hills Wine Tasting experiences.
Bursting with bright cherry, raspberry, strawberry. Light- to medium-bodied. Undertones of earth and spices.
When the world thinks of Oregon pinot noir, these are some descriptions that typically come to mind. A fruit forward, bright and lighter pinot noir compared to its fuller-bodied, bolder California counterparts.
While the diverse terroir of the region actually results in quite a wide range of pinot noir flavor profiles, no AVA produces wine that fits this classic, quintessential Oregon pinot noir profile more than the wines of the Dundee Hills AVA.
Welcome to the Dundee Hills
Located about 30 miles southwest of Portland, the Dundee Hills is home to some of Oregon's wine industry pioneers. Names like Dick Erath, David Lett, and the Sokol Blossers are exclaimed with pride in these parts; they, along with a few other bold frontier women and men, planted some of the area's first pinot noir grapes just over 50 years ago. This sub-appellation of Oregon's Willamette Valley is currently home to around 70 wineries in the towns of Dundee, Newberg, and Dayton.
Where To Go Wine Tasting in the Dundee Hills
Many of my personal longtime favorite wineries and wines are located in the Dundee Hills, but I am constantly learning about new wineries in this area. While there are so many wine tasting options, I've compiled a list of some wineries in the Dundee Hills where you can enjoy delicious Oregon wines while taking in breathtaking views. Each has something slightly different to offer, and there's a wine tasting experience to suit whatever your preference is from day to day.
Domaine Drouhin
Domaine Drouhin sits atop the Dundee Hills, with a beautiful tasting room that has a large deck overlooking the vineyards. The Drouhin family has been producing wines in Burgundy since 1880, and planted roots in Oregon in 1987. The tasting room is open daily from 11am - 4pm. Tasting flights are $20 for five wines: two chardonnays and three pinot noirs. If you have a group of eight or more, reservations in advance are required. I suggest you call at least a couple of weeks in advance, as they only have one to three specific tasting times (depending on groups size) set aside for large groups each day.
Domaine Drouhin
6750 NE Breyman Orchards Rd
Dayton, OR 97114
503-864-2700
info@domaindrouhin.com
Reservations for parties of 8 or more are required
For more information, visit the Domaine Drouhin website
Domaine Serene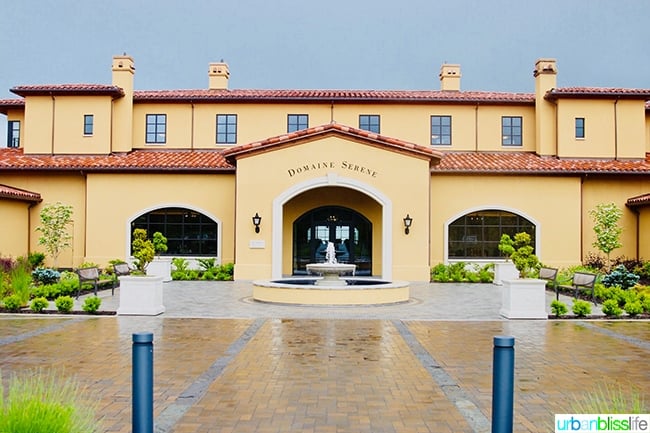 If it's the WOW factor you seek when it comes to a wine tasting experience, then Domaine Serene is the stop for you.
One of the more stunning, palatial wine tasting properties in the Dundee Hills (and, in my opinion, the state of Oregon) belongs to Domaine Serene. Known as The Clubhouse, this grand tasting property was built just last year, in May of 2017. It's modeled after winery owners Grace and Kevin Evenstad's 15th century estate in Burgundy.
The Clubhouse includes a large open tasting room, where non-members may enjoy a tasting flight for $25.
There is also members-only lounge and a dedicated food and wine pairing lounge, complete with a cozy fireplace and relaxing seating (pictured above).
Venture underground and you will find a super cool cave system modeled after the one found at the Evenstad's 15th-century Burgundian property.
There is plenty of private event space here, and if you have a group, I definitely recommend making reservations for one of the two daily 45th Parallel tasting experiences ($125/person or $75/person for members).
The food prepared by their in-house chef and kitchen team is absolutely incredible. Perfectly paired with the beautiful Domaine Serene wines.
Domaine Serene
6555 NE Hilltop Lane
Dayton, Oregon 97114
Tasting room hours: Monday - Thursday 11am - 4pm, Friday - Sunday 11am - 5pm
Reservations for 8 or more are required
For more information, visit the Domaine Serene website
Durant Vineyard and Red Ridge Farms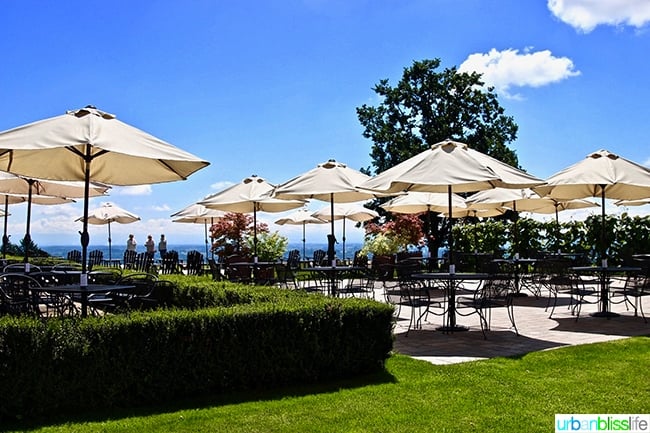 For a well-rounded Oregon wine country experience in one spot, I recommend a visit to Durant Vineyards.
Since 1973, the Durant family has been growing chardonnay, pinot noir, and pinot gris grapes for some of the state's most distinguished wineries. They carry their commitment to single vineyard wines in the Durant Vineyard label, and you can enjoy tasting flights daily starting at $15/flight.
The tasting room includes expansive outdoor space overlooking the valley, and is located just a few steps away from the Durant Olive Mill, nursery, and gift shop.
I could spend hours in the gift shop alone. If you are looking for quality local gifts to bring home to friends and family, the Red Ridge Farms Gift Shop is THE BEST.
Also: if you follow my Instagram stories, you know that I am obsessed with Durant Olive Oil. You can take a tour of the olive mill, and I recommend doing the Estate Experience ($70/person), which includes a tour as well as a comprehensive olive oil tasting and wine tasting.
Durant Vineyards & Red Ridge Farms
Tasting Room hours: open daily 11am - 5pm
5510 NE Breyman Orchards
Dayton, Oregon 97114
503.864.8502
info@redridgefarms.com
For more information, visit the Red Ridge Farms website
Lange Winery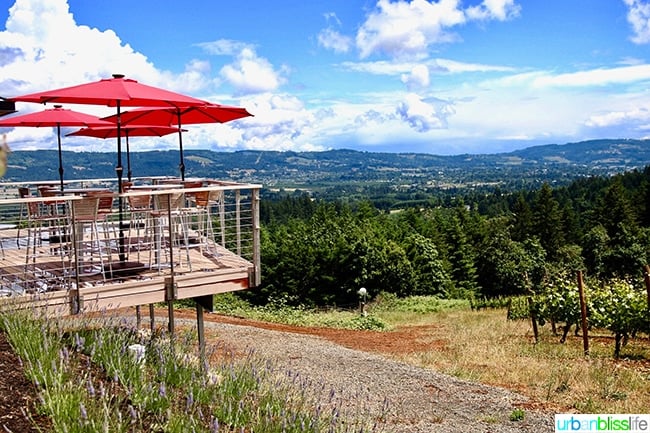 I've enjoyed Lange Winery wines for decades now (yes, that's how old I am - and proud of it!), but only recently visited their tasting room for the first time. Don and Wendy Lange are among those Oregon wine industry giants I mentioned in the beginning of this article, and it was a joy to meet them recently during a media visit.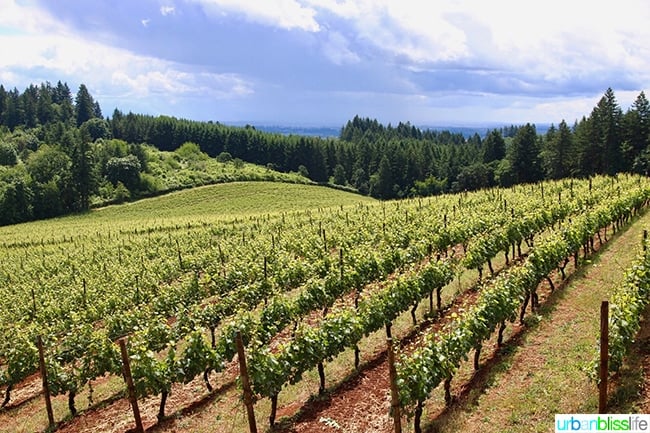 The tasting room is lovely, with a deck that allows you to look out onto the rolling hillsides while sipping your wine. It's a beautiful space to spend an afternoon.
Tasting flights start at $15/person, and the fee is waived with a two bottle purchase. You can also opt for a Tour & Tasting ($45/person).
Lange Winery
18380 NE Buena Vista Drive, Dundee, OR 97115
503-538-6476
Tasting Room Hours: daily, 11 am - 5 pm
For more information, visit the Lange Winery website.
Stoller Family Estate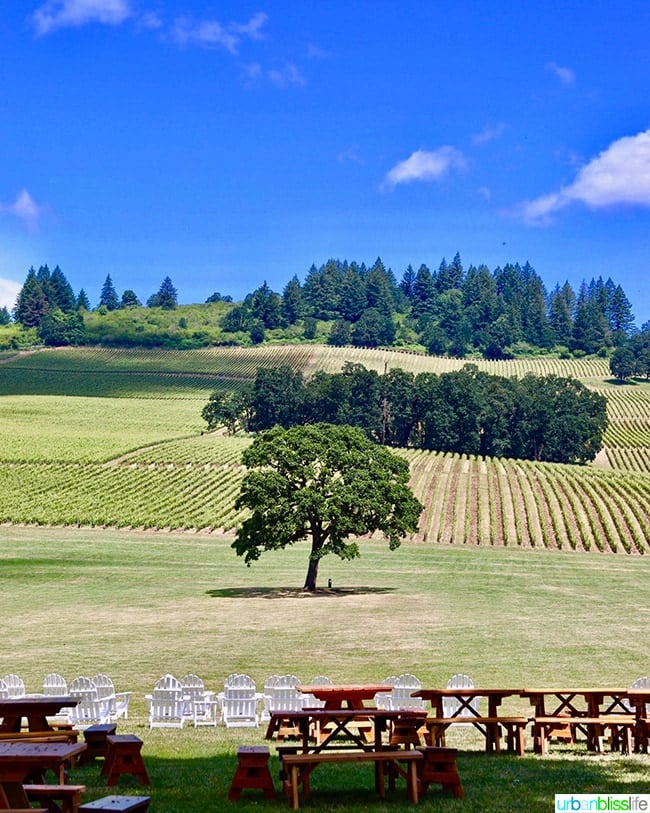 With expansive outdoor space and ever-expanding indoor tasting room options, Stoller Family Estate is a crowd favorite among locals and one of my favorite spots to take out-of-town guests.
The views are absolutely breathtaking, and there is plenty of space for you and your wine tasting crew to enjoy your time here without feeling rushed or crowded. If it's nice out, sip your wines while lounging in one of their many adirondack chairs and soak up those vineyard views. Or bring a picnic and gather around one of the outdoor picnic tables.
Note: outside food is only available in certain areas of the property; please call the tasting room ahead of time if you'd like to bring your own food. Otherwise, they have wonderfully delicious food options available, prepared by their talented in-house chef.
You'll taste through a variety of whites and reds – all of them wonderful wines in their own right. The outdoor space is dog-friendly, and you're likely to see a few kids enjoying the greenspace while you're here. And, chances are, you may see me and my crew here too... we're here a lot!
Stoller Family Estate
16161 N.E. McDougall Road
Dayton, Oregon 97114
503.864.3404
For more information, visit the Stoller Family Estate website
White Rose Estate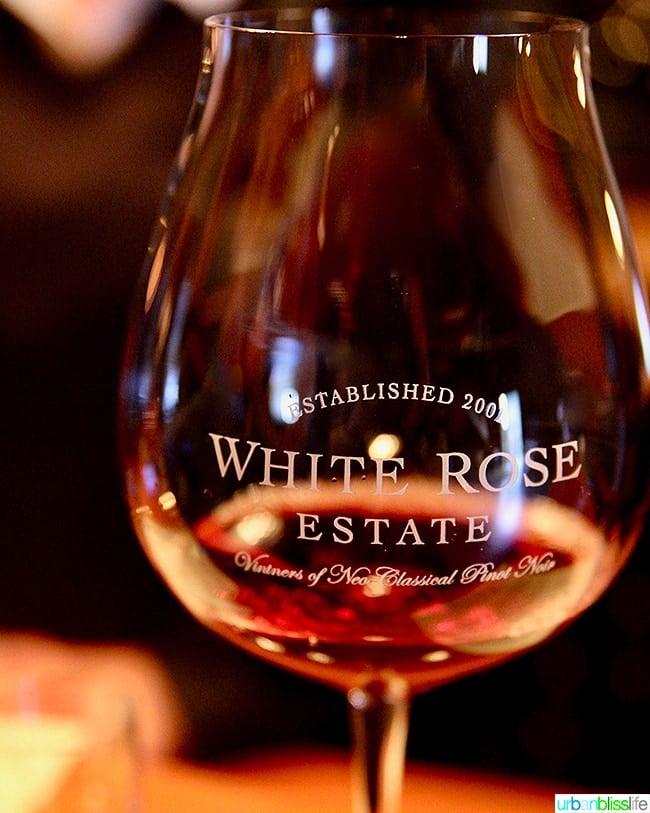 If it's a more intimate, romantic wine tasting experience you seek, check out White Rose Estate.
This dark, window-less tasting room offers a cozy, intimate wine tasting experience. The building is unlike any other in the area, and the Pinot Noir you will taste here is whole cluster, which also differs from much of the neighboring wineries. Also unique: the fancy schmancy espresso bar inside the tasting room. So when you've finished your wine tasting, you can jolt back up with some amazing espresso before heading back out into the light. Be sure to walk around outside a bit and enjoy the outdoor space, where you can enjoy beautiful views of the vineyard.
The Tasting Experience is $25/person, and reservations required for groups of 6 or more. Tours are available upon request
White Rose Estate
6250 NE Hilltop Lane
Dayton, OR 97114
Tasting Room Hours: Daily, 11am - 5pm
For more information, visit the White Rose Estate website.
**Update: Recently, after I had written this post, Head Winemaker Jesus Guillen passed away to cancer at age 37. My heart goes out to his family, especially to his wife Julie and their 10-year-old son Adrian, and to the White Rose family. You may support his family during this difficult time by contributing to this online that has been set up for them.
More Dundee Hills Wine Tasting
There are so many more wonderful wineries to visit in the Dundee Hills, but these options offer you a variety of experiences - and some classic Oregon pinot noirs combined with some slightly off the traditional pinot path.
For more wineries, as well as local restaurants and accommodations for your visit here, check out the Dundee Hills Winegrowers Association website.
Pin It:
Disclosure: All of these wineries were visited for the purpose of this article as part of a press trip with the Dundee Hills Winegrowers Association. I regularly frequent Stoller, White Rose, and Durant Vineyards on my own, and plan on visiting the others featured here again on my own dime soon. As always, all opinions and photos are my own. I love these wineries, and think you will, too!