CVS at Target gives you convenient access to prescriptions nationwide! Perfect for fellow travel lovers.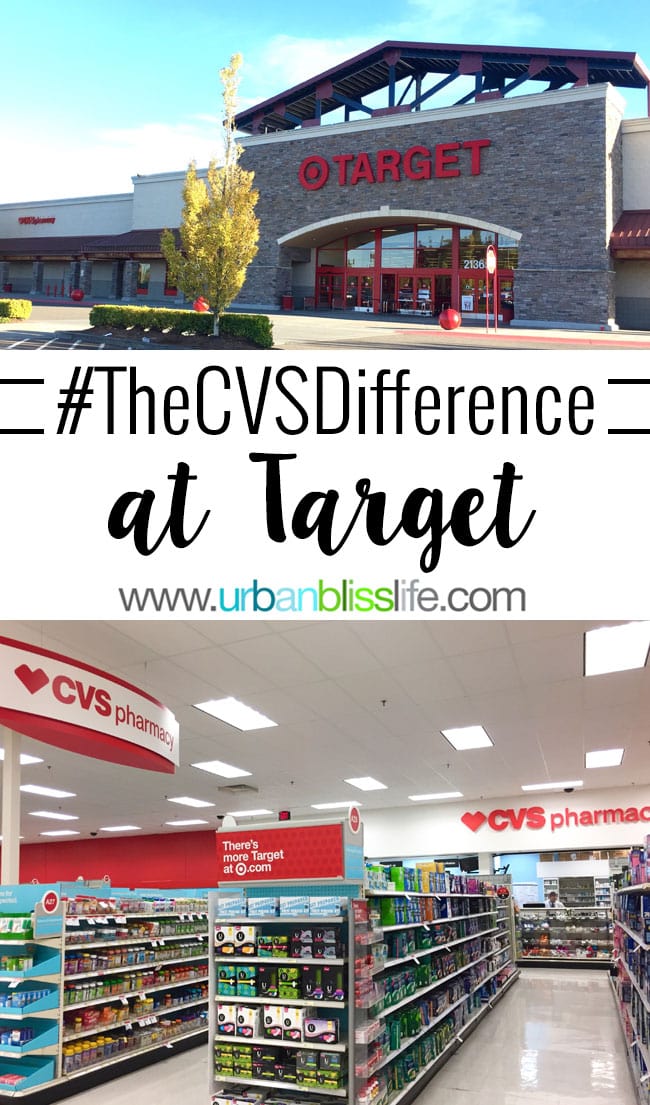 When I went to college in Boston, Massachusetts, I could always count on finding a CVS when I needed it throughout the city. The CVS Pharmacy was my go-to spot for filling prescriptions – it was always super easy, fast, and convenient. Plus, as a young college student, I was so nervous about any medication (and frankly, still am) and the CVS Pharmacy folks were always helpful, kind, and happy to answer my many questions.
When we moved back West, it was so weird at first, not seeing a CVS on every corner. So I was excited to learn that CVS Pharmacy was coming to Target!
CVS at Target
You may have noticed that the pharmacy in your local Target is now a CVS Pharmacy. Personally, I am super stoked about this because I shop at Target all the time. Maybe a little too much...but that's a topic for another post! ;)
Target is already where I go for my family's prescriptions. Now that CVS is at Target, I know I can count on all of the great pharmacy qualities I relied on during my former CVS experiences.
The CVS Difference
The aspect I am most excited about having a CVS Pharmacy in my local Target store is the CVS Mobile App. I'll go into greater detail in a future post.
First, I know that some of you fellow West Coasters may not be as familiar with CVS Pharmacy, so I thought I would share some of the basic cool features that you'll find.
CVS ExtraCare Rewards
One of my favorite things about Target is that I have a debit card that is just like using cash, except I get an automatic 5% off every single transaction. CVS Pharmacy has a similar type of reward program with their ExtraCare Rewards.
This loyalty program allows you to earn $5 in ExtraBucks Rewards for every 10 prescriptions filled. You can also earn rewards for things like immunizations or choosing email refill reminders.
Convenient prescription center
In addition to having the ease of filling prescriptions where you already shop, the CVS.com site's prescription center makes it super easy for you to keep on top of your family's prescriptions.
You can schedule future refills, find CVS Pharmacy locations close to you while you're out and about or traveling (super important for those of us who travel a lot!), and you can easily transfer prescriptions from other pharmacies to CVS Pharmacy.
You can also enroll to get text message notifications for prescription pick-ups. I do this and it is SO nice to be able to make use of that time and then just head over once the prescriptions are ready, instead of waiting in the waiting area the whole time.
Detailed prescription info
As an information junkie and as a parent, I also love the Drug Information Center that CVS Pharmacy has to offer. You can access information on thousands of drugs - from side effects to dosage info and directions and even videos that show you how each drug actually works in your body. It's really cool!
I prefer NOT to take medication of any kind unless I have to. So when I do, I like to know what's going in my body (and my children's bodies). The information you can find through CVS.com is super helpful. The pharmacists at our local CVS Pharmacy have all been fantastic as well.
Easy access while traveling
As someone who travels quite a bit, I absolutely love the convenience of being able to access CVS at Target around the country. I also love the access I have to my prescriptions via the mobile app and Apple Watch integration. I'll be sharing specifics on the app in a future post!
Do you use CVS at Target?
I'm proud to be working with CVS at Target on the CVS Pharmacy Difference Campaign. As always, all opinions expressed and photos shared here are my own, and all product claims or program details shared should be verified at CVS.com or with the appropriate manufacturers. I've been a longtime fan of both CVS and of Target, and was thrilled to work with CVS on this campaign!