Gear up for the big game with this bright and colorful, FUN Super Bowl spread! You'll score big points with these creative football desserts: cute Starburst Pretzel Flags and tasty Snickers Touchdown Towers!
The Big Game is coming up...are you ready?
I love football mostly for the food, I'll happily admit that. Tailgating food can be so much fun! And, decorating for football parties can go beyond the traditional green, black, and white. Especially with creative football desserts.
If you haven't noticed, I am a big fan of color around here. I love how easy it is to create a bright, vibrant, FUN football party with Snickers, Skittles, and Starburst (all Official Sponsors of Super Bowl 50!), and some simple football banners, food flags, and football Bingo cards that I designed. I'll have the free football printables up on Urban Bliss Life next Monday!
Meanwhile, ready, set, hike! Let's tackle that game day food!
Fun Super Bowl Snacks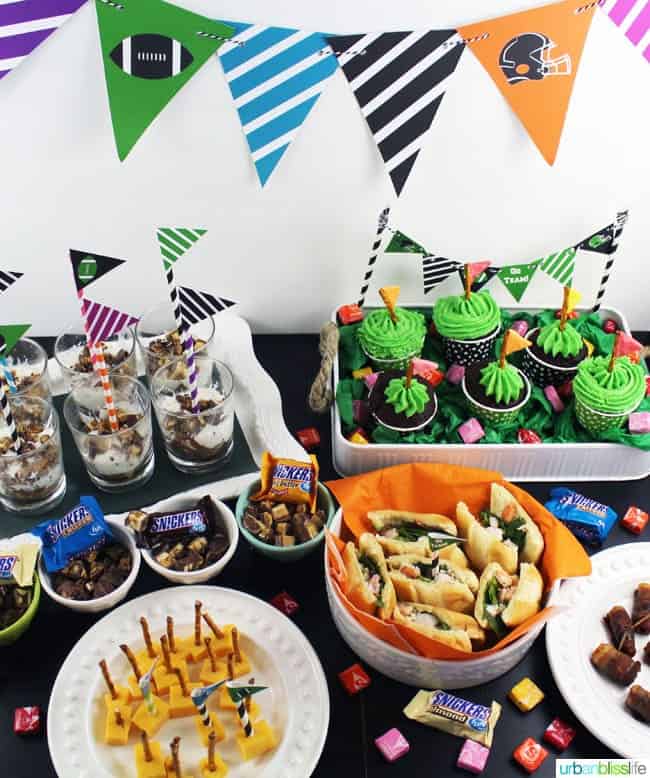 For my bright & colorful Super Bowl Spread, I'm serving:
Shrimp Sliders
Cheese & Pretzel Bites
Chocolate Cupcakes with Starburst Pretzel Flags
Snickers Touchdown Towers
How to Make Candy Pretzel Flags
Another fun and truly EASY party trick for the big game: Starburst pretzel flags.
I made these for the first time about 15 years ago (pre-blog/social media times!) for my first Super Bowl party cake, and now my kids love them too!
Making these creative football desserts is SO easy!
Unwrap the Starbursts that you want to use as flags and place on a microwave-safe plate. I like to choose a variety of colors, but you can also select colors based on your favorite team.
Microwave Starburst pieces for 15 seconds.
As soon as you take the Starburst pieces out of the microwave, work quickly: slightly flatten the Starburst with your fingers, then use kitchen shears to cut out flag shapes. You can create billowy, windy flag shapes or simple triangle flags as I did here.
While the Starburst pieces are still warm, press one side a the Starburst against the edge of a pretzel stick. I use my fingers to gently press the edges slightly around the pretzel stick so that it stays better.
Repeat with remaining Starburst candies and pretzel sticks.
Voila! Instant, easy, adorable, colorful Starburst pretzel flags!
You can put them onto cupcakes, cake, cheese cubes, or even top the Snickers Touchdown Towers with them!
Game Day Decor & Games
For this Super Bowl spread, you'll need:
Colorful striped straws
Colorful striped bakers twine
My

printable Colorful Football Banner, Football Flags, and Game Day Bingo

(coming up next Monday on the blog!)
Snickers, Starburst, and Skittles candies
Be sure to visit this site for more creative ideas & recipes to help you host a fun, delicious Super Bowl party!

I designed these fun Football Bingo Cards that everyone can play during the Big Game. These will also be free printables you can download next Monday, with plenty of time to prep for your Super Bowl party!
Which of these bright & colorful, tasty party ideas would you incorporate into your big game party?
How to Make Snickers Touchdown Towers
Entertaining a crowd can be fun for both hosts and guests when you create an interactive food experience. These Snickers Touchdown Towers are made with a layer of crushed graham crackers, a layer of chocolate mousse, a layer of whipped cream, and topped with any combination of Snickers candy bars that your guests desire!
Here's a quick gif to show you how these come together:

Creative Football Desserts: Snickers Touchdown Towers
These Snickers Touchdown Towers are easy and fun to put together and a sweet way to celebrate the Big Game!
PRINT
PIN
RATE
🤍 SAVE
Saved!
Ingredients
6

graham crackers

2

tablespoons

melted butter

Pre-packaged chocolate pudding OR my dairy-free chocolate mousse

Whipped cream - store-bought or homemade

Your choice of Snickers

cut into small pieces
Instructions
Set out 6 small cups.

In a food processor, combine graham crackers and melted butter until well blended.

Place a layer of the graham cracker mix at the bottom of each cup.

Place a layer of chocolate pudding or chocolate mousse on top of each graham cracker layer.

Place a layer of whipped cream on top of each chocolate layer.

Set out bowls of chopped Snickers in different flavors (my favorites: Snickers Original, Snickers Crispers, Snickers Peanut Butter, and Snickers Almond!)

Allow your guests to top their Touchdown Towers with any combination of Snickers that they choose!
Tried this recipe?
Please leave a star rating and comment! Then snap a pic of your dish and share it on social media. Tag @UrbanBlissLife and #UrbanBlissLife!
Nutrition information is a general estimate. Actual nutrition details may vary depending on the exact foods & brands you use to make this recipe. It does not take into account any substitutions, toppings, or optional ingredients.