First off: two days in Seattle is not nearly enough to enjoy the gastronomical delights the city has to offer. There are simply too many options and never enough time.
Best Places to Eat in Seattle
We tried to visit as many of the best places to eat in Seattle as we could during our #2DaysInSeattle visit.
Some of the main criteria we were looking for:
Excellent Pacific Northwest seafood
Friendly, welcoming, attentive service
Great selection of Pacific Northwest wine and beer
Fun, casual restaurant with upscale food and drink
At least one restaurant with an amazing waterfront view
We found all of these and more! Here is a round-up of some top Seattle restaurants we visited.
The Pink Door: our favorite Seattle restaurant
Without hesitation, the best meal we ate during #2DaysInSeattle was at Pink Door. My husband and I are still talking about the delicious food.
First, you should know that there is no large sign for Pink Door, simply map it out, walk down Post Alley, and look for the pink door. Upon entrance, you walk down steps through what I believe must be a hole in the space-time continuum. Have you seen Midnight in Paris? We felt like Owen Wilson's character, suddenly transported to another time, surrounded in a dimly lit room by fascinating characters, gorgeous light fixtures & candles, and intimate tables. It was magical from start to finish.
My husband and I split the butterleaf salad, which was a light blend of lettuce, herbs, and carrots. My husband ordered the buccatini special, which featured a spicy smoky bacon-infused rich tomato sauce. I ordered the pappardalle Bolognese, and was delighted to enjoy the best Bolognese I've had outside of Italy. Our dishes were so incredibly delicious that we both cleaned our plates. At one point I had put my fork down to breathe, saw the waitress start to walk over, and protectively picked up my fork again to take another bite as if to say "back off, lady. I haven't fully had my way with this meal quite yet." Had there been extra bread to soak up every last drop of the amazing Bolognese sauce, I would have used it.
The Pink Door also offers cabaret shows, which I've heard great things about. Definitely make reservations and come with an empty stomach – I guarantee you will leave feeling completely satisfied.
Ray's Boathouse: best Seattle restaurant with a view
If we were handing out awards, the award for Best Service Ever would go to Ray's Boathouse. Seriously: I don't think we have ever been treated as well in our entire lives as we were by the wonderful staff at Ray's Boathouse.
Located over the Ballard bridge, Ray's Boathouse and it's more casual cousin Ray's Boathouse Café, are perfect spots to watch the sunset folding into gently rolling waters. This spot was recommended to me more than any other restaurant in Seattle, with specific instructions to make reservations around sunset time.
Now keep in mind, sunsets in early February are between 5 and 5:30pm. We felt a little like we were heading to the Early Bird Special but boy, were we treated to the most beautiful serenely sweet scenic ending to a hectic day in the city. So I will echo what dozens of people chimed before me: go to Ray's Boathouse, and go dine by sunset. You will not be disappointed.
We were treated to delightful glasses of bubbly, and nibbled on three remarkable appetizers: smoked scallops, smoked salmon, and chilled prawns. The smoked salmon was perfectly done. For me, an obsessive seafood lover, Ray's was like the Mother Ship of seafood pulling me in. For dinner, my husband enjoyed the most delicious piece of ling cod I have ever tasted (and growing up in the Pacific Northwest, I have tasted quite a bit of ling cod). I honestly don't remember much about how it was prepared, except that it included bacon -- really, that says a lot right there. Meanwhile, I ordered the salmon special atop a bed of brussel sprouts, leeks, and masked potatoes with a cherry-pear puree. For dessert, we enjoyed a beautiful presentation of tiramisu cheesecake and were treated to an accompaniment of Madeira dessert wine.
The staff went absolutely above and beyond the highest level of customer service we have received at any restaurant, and we have eaten at some amazing establishments around the world. Our waitress was friendly, knowledgeable about the seafood, and had impeccable timing (note: I always listen in to waitress conversations with other guests, and ours was incredibly gracious and helpful to each table). I watched every staff member treat guests with such care, and wished all other restaurants could send their staff here for training.
To everyone at Ray's Boathouse: a million thank you's for quite the memorable dining experience. You deserve every bit of praise that has ever been stated about you, and we feel honored to have had the pleasure of dining in your fine restaurant.
Pike Brewing Company: Best Seattle Brewery restaurant close to Pike Place Market
If you're in the Pacific Northwest, you must try the microbrews and local wines. Between brunch and lunch one day, we decided to make a pit stop at Pike Brewing Company. From a design standpoint, Pike Brewing is a bit of a train wreck (no offense; but my eyes hurt). From a beer standpoint, we discovered some delicious brews. I'd suggest ordering the sampler, which gives you a sample of 6 of their standard pours. My taste leans toward hoppy beers, and their Pike IPA was fantastic. My husband enjoyed the double ale.
Etta's: Best Seattle Brunch
Brunch is perhaps my favorite meal, perhaps because there is almost always the possibility of bacon being involved. Located at the edge of Pike Place Market on Western Avenue facing the water is one of the many Tom Douglas restaurants in Seattle: Etta's.
Etta's is one of the top Seattle restaurants because it's what I believe most brunch places should be. You'll find lots of high booths, large windows allowing lots of natural light in, and of course, hearty food options and bottomless coffee. It feels like an upscale old school diner serving fresh local fare with a smile.
Random note: I love the Etta's coffee mugs. They're heavy and exactly what you should drink coffee out of. Wish I had thought to ask to purchase one before we left.
My husband and I split the cinnamon French toast, a side of home fries, and I ordered a side of an egg over medium. The portions were just right, and the food was fantastic. The French toast was honestly the best French toast I have had anywhere: Brioche toast lightly dipped into egg batter and fried. It was crispy on the outside and fluffy (but not runny) on the inside. I am now obsessed with the idea of replicating this dish at home. It came with a side of local Bavarian Meats bacon.
The service was friendly and the price was very reasonable for brunch. Definitely try Etta's for brunch the next time you are in Seattle.
The Purple Cafe: Best Downtown Seattle Wine Bar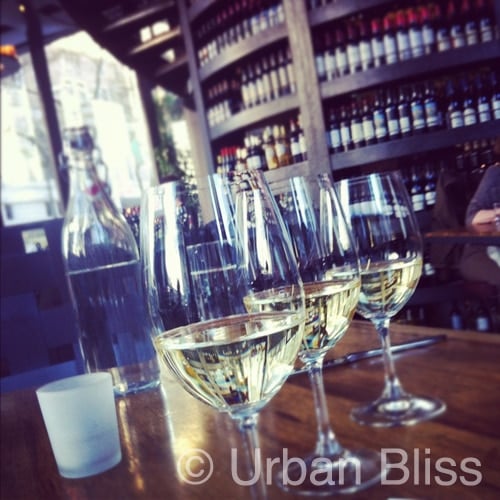 After a large breakfast at Etta's and beer at Pike's Brewery, we were looking forward to something light. Enter, the Purple Cafe. With dark metal and wood structures, insanely high ceilings, and a wide open main level dining area, The Purple cafe is an expansive restaurant with a delightful menu. The centerpiece of this establishment is the floor-to-ceiling spiral wine tower.
We ordered the Chenin Blanc wine flight, which included Quail's Gate (Canada), Badenhorst Family Wines 'Secateurs (South Africa), and Cave DeVouvray 'Rosnay (France).
Light, slightly sweet, perfect for a quick stop with small bites. My husband ordered the half Ceasar salad (meh), while I ordered the smoked salmon crostini. Three baguette slices topped with a smoked salmon mousse, capers, and lightly carmelized red onion. It went well with the wines.
UPDATE: I've dined here several times since this trip, and it's still in my list of top Seattle restaurants!
Best Places to Eat in Seattle
There you have it: a brief roundup of just some of our fave places to eat & drink during our #2DaysInSeattle. The list of culinary delights in this city goes on and on… What are your favorite spots to nosh in Seattle?
More Seattle Travel Tips