One of the songs that frequents my mind randomly this time of year: the Adam Sandler Thanksgiving song. The one from Saturday Night Live.
Turkey, turkey, turkey... a turkey for me, and a turkey for you...
You know the one!
Tomorrow is our baby's first Thanksgiving. His squash awaits (he likes squash!), while hubby and I are eagerly anticipating the monsterous Thanksgiving Day meal my mother traditionally creates.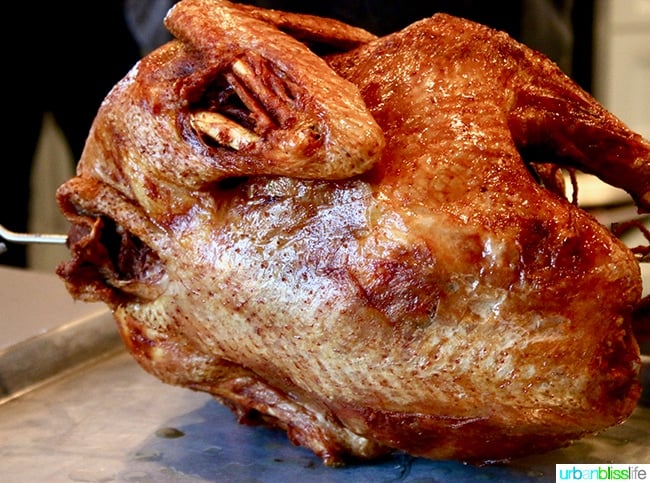 We'll be spending the day tomorrow creating two dishes we've never made. We're going to try making Herbed Bread Stuffing with Mushrooms and Sausage and Brandied Caramel Apple Crumble. I was going to start the prep work tonight (lots of chopping involved with both dishes), but suddenly it's 7pm.
I find myself instead in my jammies, eating a banana, writing this blog. While also watching Ken Jennings continue his insane winning streak on Jeopardy. Also? Doing the bills, and eagerly awaiting the new episodes of Lost and The West Wing. There will be no prep work done tonight.
We haven't put much thought into this being our baby's first Thanksgiving. We've been more focused on his first Christmas. I don't think he'll appreciate Thanksgiving as much as he will next year. Next year, he can partake in more of the turkey day eats.
At least with Christmas, there are twinkling lights and crinkly noisy wrapping paper. I think he'll love the bright colors, snappy songs, and presents. And of course, the delicious Christmas meal. We're totally stoked for Christmas this year.
I think as parents we have to pick and choose which holidays to really fuss over. And, which to let slide just a bit. Our Baby's First Thanksgiving isn't as big of a deal, in our mind, as his First Christmas.
What about you? How did you celebrate your baby's first Thanksgiving vs. first Christmas?
More Thanksgiving food and wine articles
Free Thanksgiving Wine Printables
Thanksgiving Dessert Recipe: Apple Pie Bars
This post may contain affiliate links. Read my policies page for more details.