CVS Pharmacy now offers Apple Watch integration to help make it easier to stay healthy!
Sometimes, it's nice to splurge on ourselves. Maybe it's that vacation you've been saving up for and waiting to take for two years. Maybe it's a new pair of shoes or a new workout outfit. Maybe it's a new book that you've been wanting to read forever. Whatever you decide, it's something that makes you happy, and something just because or as a secret little reward you've been working toward.
About a month ago, I cashed in on my own personal splurge as a reward for working out consistently for six straight months. I had been thinking about getting a fitness band to help keep me on track, and after lots of research and soul searching, I decided to buy an Apple Watch.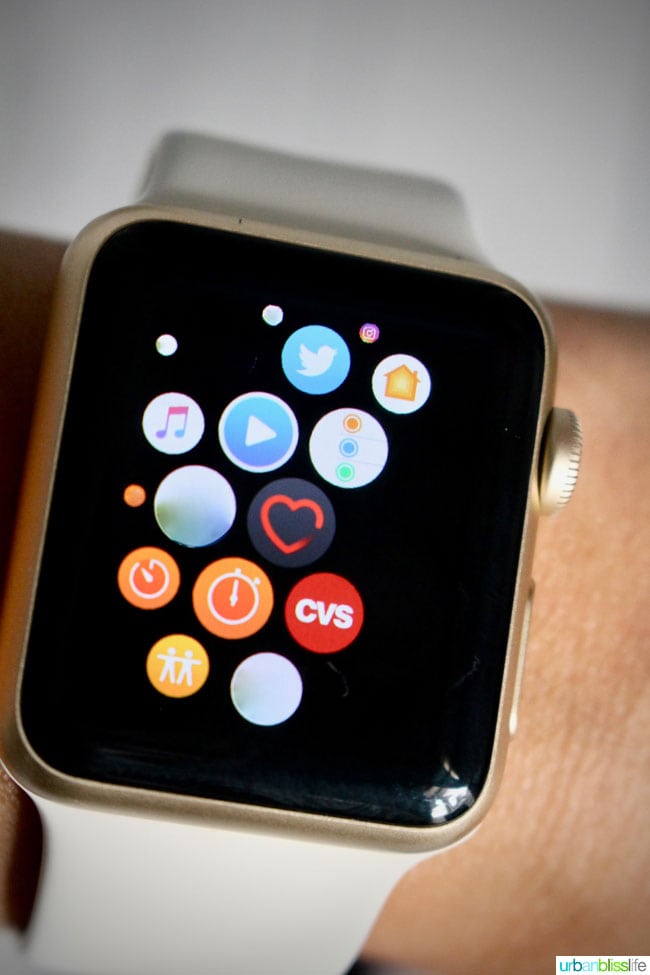 This was a HUGE splurge for me. I never thought I would like wearing a watch again, but I LOVE this watch! It's beautiful. I broke out of my comfort zone of wearing black everything and got the antique white band with gold watch face plate. She's purrrrty.
And, thanks to the fitness app and activity app, my Apple Watch has totally kept me even MORE on track with my personal fitness and health goals. So it's truly the gift that keeps on giving!
One of the health apps I've recently downloaded is the CVS app, which has Apple Watch integration.
#TheCVSDifference: Apple Watch Integration
As I mentioned in a previous post, CVS Pharmacy is now in Target Stores nationwide. This is AWESOME for busy families, especially those of us who travel quite a bit because it means we have easy access to prescriptions wherever we go.
The CVS Pharmacy app allows you to refill prescriptions, get app-only deals when you link your Extra Care card, find a nearby MinuteClinic walk-in clinic, and more.
Like most Apple Watch integrations, the app access is more limited, but what it does is help send you reminders when it's time to take your medicine. You can even set it up to send you reminders about family member medications as well.
I don't know about you, but I always get so caught up in work and life that it's SO easy to forget to take prescribed medications when I need to, and a little notification on my wrist can make a BIG difference! Just another cool feature of TheCVSDifference that I love.
What I love the most about CVS Pharmacy being in Target stores are the benefits to families when traveling. While we aren't traveling full-time like many fellow travel bloggers, we do travel a LOT for our little family of four, and CVS makes it easier to stay healthy while traveling. I'll talk more about that in a future post!
Do you have an Apple Watch or other fitness band? What sort of health apps do you love to use to help keep you on track?
I'm proud to be working with CVS Pharmacy on the CVS Pharmacy Difference Campaign. As always, all opinions expressed and photos shared here are my own, and all product claims or program details shared should be verified at CVS.com or with the appropriate manufacturers. I've been a longtime fan of both CVS and of Target, and was thrilled to work with CVS on this campaign!