When you want apple pie but also a cocktail, these Boozy Apple Pie Shots made with Frank High Proof Rum, green apples, honey, and simple syrup will do the trick!
Oh, Monday. It's days like these when alliteration and theme post days work in our favor. At the end of a crazy Monday, you can kick back at home and try a new Mixology Monday cocktail... or dessert... or both rolled into one!
Today's Mixology Monday Apple Pie Shots cocktail recipe is a cross between a cocktail and a dessert... it's taking care of two decadent indulgences in one sweet, delicious boozy dessert cocktail shot.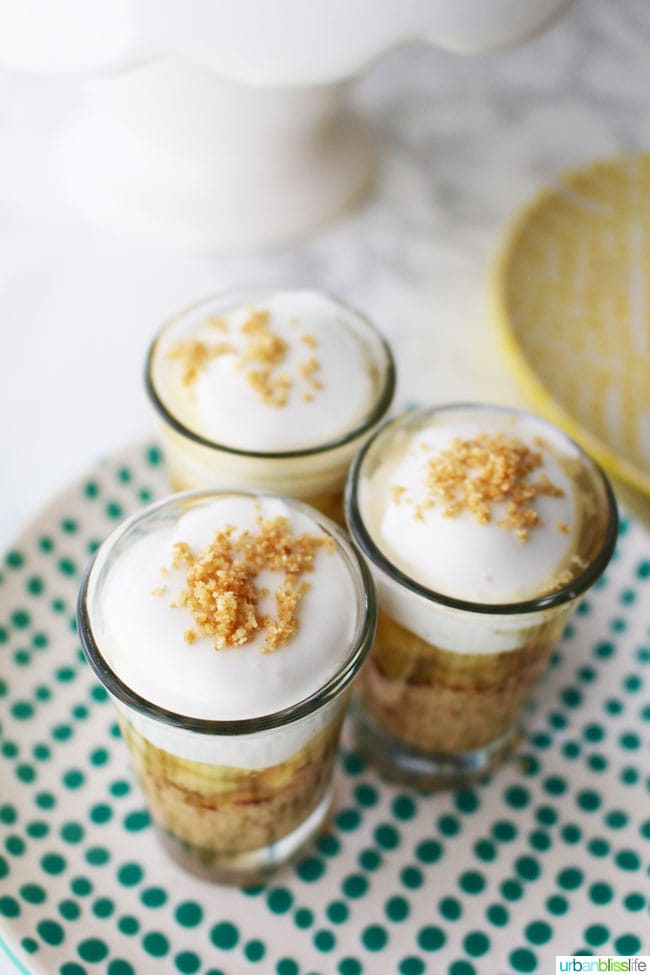 I have a thing for cocktail shots, if you can't tell. At home parties, I don't necessarily have time to tend bar all night, so cocktail shots are easy to make in batches and line up for friends to self-serve. These Boozy Berry Smoothie Shots are one of my favorite spring/summertime adult treats.
Today, I'm sharing a fun boozy twist on apple pie with these Boozy Apple Pie Shots.
Boozy Apple Pie Shots
You start simply by pulsing graham crackers and melted butter in a food processor, and then lining the bottom of each double shot glass with a small spoonful of the crumbly mixture.

You then chop one green apple up into little itty bitty pieces, and soak in a bowl of rum, simple syrup, honey, and ground cinnamon/sugar mixture.
I used Frank High Proof Rum for this recipe. It's a new rum from McMenamins Cornelius Pass Roadhouse Distillery, and the spice and apple undertones make it a perfect compliment to this recipe.
Don't let the apples soak for too long, unless you want these to be REALLY boozy. Trust me. My first batch did not turn out to be edible because I let the apples soak in the rum mixture for a couple of hours.
They just need a minute or two and then you can spoon them into each of the shot glasses.
Then you top each apple pie shot with a dollop of whipped cream and a sprinkle of crumbled graham crackers.
I used coconut cream in the batch pictured, but I'm pretty sure they would be absolutely even more amazing with regular heavy whipped cream for you non-dairy-free folks!
Ingredients
Instructions
Pulse the graham crackers and melted butter until you get little crumbs.

Spoon a small amount evenly into each double shot glass.

Combine chopped apples, rum, simple syrup, honey, and cinnamon sugar mixture in a medium bowl.

Spoon a small teaspoonful of the apple mixture into each shot glass.

Top each with whipped cream or whipped non-dairy topping (I use whipped coconut milk) and a sprinkle of additional graham cracker crumbs.

Serve immediately.
Thanks to McMenamins Distillery for providing me with a complimentary bottle of Frank spiced rum to use in cocktail recipe development. All opinions and photos are, as always, my own.