30 Whole30 Recipes for breakfast, lunch, and dinner to tempt your tastebuds and keep you satisfied!

Are you one of the millions who has or is currently following the Whole30 program?
I have many friends who do Whole30 throughout the year, and most of them have reported amazing results. They say they feel better, some have lost inches and pounds, and most importantly, following the Whole30 diet helped them change the way they looked at food. It helped them learn to cook at home more, be more thoughtful about grocery shopping, and make smarter decisions when they ate out at restaurants.
What Is Whole30?
The basic principle of Whole30 is to eat real, whole food for 30 days - no cheating or special occasions allowed. According to the program's rules, you should avoid:
any added sugar, real or artificial
grains (pasta, rice, quinoa, etc.)
alcohol, even in cooking
dairy, including butter
legumes (although they say green beans, sugar snap peas, and snow peas are allowed)
any processed food, homemade or store-bought, even if it contains only acceptable ingredients (i.e. store-bought cookies, waffles, pancakes, pizza crust, etc).
Not sure about a certain food? The Whole30 mantra is: when in doubt, leave it out.
If you're serious about Whole30, be sure to read the Whole30 rules on the official program website.
30+ Whole30 Recipes
If you're new to the Whole30 program, it can seem a bit daunting at first. And if you've done this before, you may be nervous about getting stuck in a recipe rut.
So I've compiled 30 Whole30 compliant recipes from fellow food bloggers to help inspire you on your Whole30 journey. Everyone's Whole30 journey is different, and I hope you find some recipes here that you try and love! If you do, please come back and let me know in the comments! I love your comments!
Whole30 Breakfast Recipes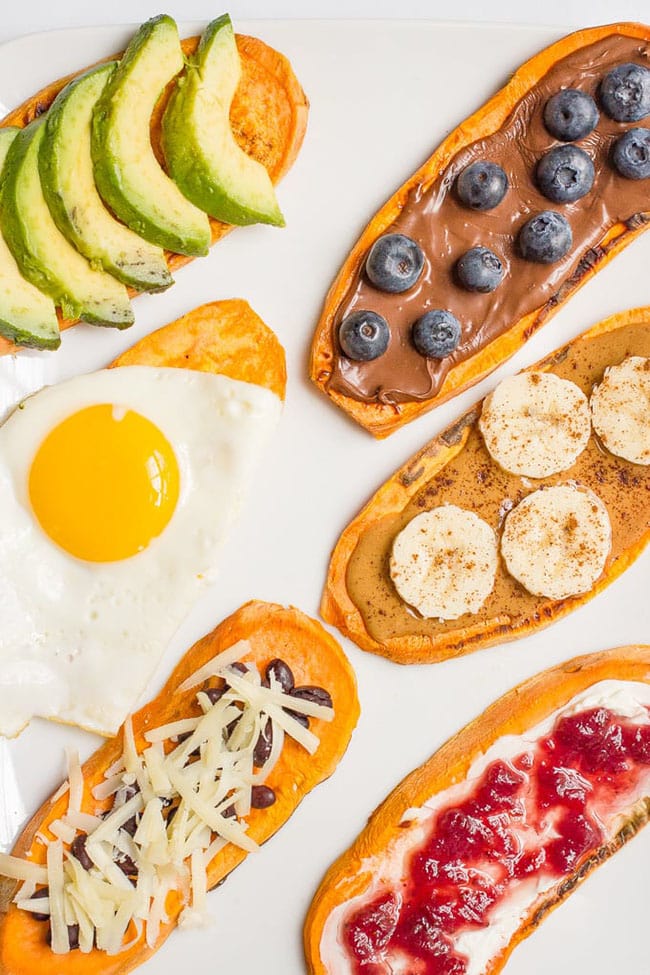 Sweet Potato Toast | Family Food on the Table
Butternut Squash Hash | Urban Bliss Life

Whole30 Recipes for When You are Craving Carbs…
Tomato Mushroom Spaghetti Squash | What A Girl Eats
Zucchini "Pasta" Puttanesca | Jennifer Banz
Moroccan Chicken and Cauliflower Rice | The Organic Kitchen
Whole 30 Zucchini Noodle Pasta with Pesto and Chicken | Avocado PestoChicken Broccoli Cauliflower Rice Casserole | A Saucy Kitchen
Pork, Beef, and Lamb Whole30 Recipes
Whole30 Pulled Pork Spuds | Recipe This
Grilled Herb-Crusted Lamb Kebabs | Garlic and Zest

Low Carb Pork Egg Roll in a Bowl | Peace, Love, and Low Carb
Chipotle Copycat Barbacoa | Wholesome Yum
Whole30 Chicken Recipes
Crispy Chicken Thighs with Garlicky Kale | Pinch and Swirl
Instant Pot Paleo Chicken Cacciatore | From Pasta to Paleo
Orange Five Spice Chicken Thighs with Carrots and Brussels Sprouts | Midlife Croissant
Fennel Chicken Mediterranean Style | Innocent Delight
Slow Cooker Chicken Fajitas | A Clean Bake
Seafood Whole30 Recipes
Sheet Pan Salmon with Vegetables | Urban Bliss Life
Baked Rainbow Trout Fillets with Roasted Broccoli | Sweet and Savoury Pursuits
Greek Grilled Shrimp Quinoa Bowls | The Baking Fairy
Garlic Shrimp with Cauliflower Rice | Low Carb with Jennifer
Whole30 Soup Recipes
Roasted Butternut Squash Apple Soup | Family Food on the Table
Lemon Chicken Soup with Cauliflower Rice | A Saucy Kitchen
Healthy Hamburger Soup | The Whole Cook
Smoky Chipotle Turkey & Sweet Potato Chili | Peas and Crayons
Mexican Meatball Soup | The Organic Kitchen
Curried Carrot and Sweet Potato Soup | Girl Heart Food
Curried Acorn Squash Cream Soup with Coconut Milk | One Clever Chef
Whole30 Salads & Sides
Rainbow Salad Rolls | UrbanBlissLife
Taco Salad | Rainbow Delicious
Roasted Jicama with Green Beans | Low Carb Yum
Whole30 Sauces
Cilantro Garlic Marinade | What a Girl Eats
Restaurant-Style Salsa | Urban Bliss Life
Whole30 BBQ Sauce | Crickets Confections
Are YOU doing Whole30? Which of these Whole30 recipes looks most appetizing to you?
PIN IT:
More Easy, Healthy Recipes
Healthy Instant Pot Moroccan Chicken
30-Minute Carrot Cauliflower Soup