Looking for the perfect holiday gift for the foodie in your life? I've got some fabulous unique ideas in the 2018 Holiday Gift Guide for Foodies!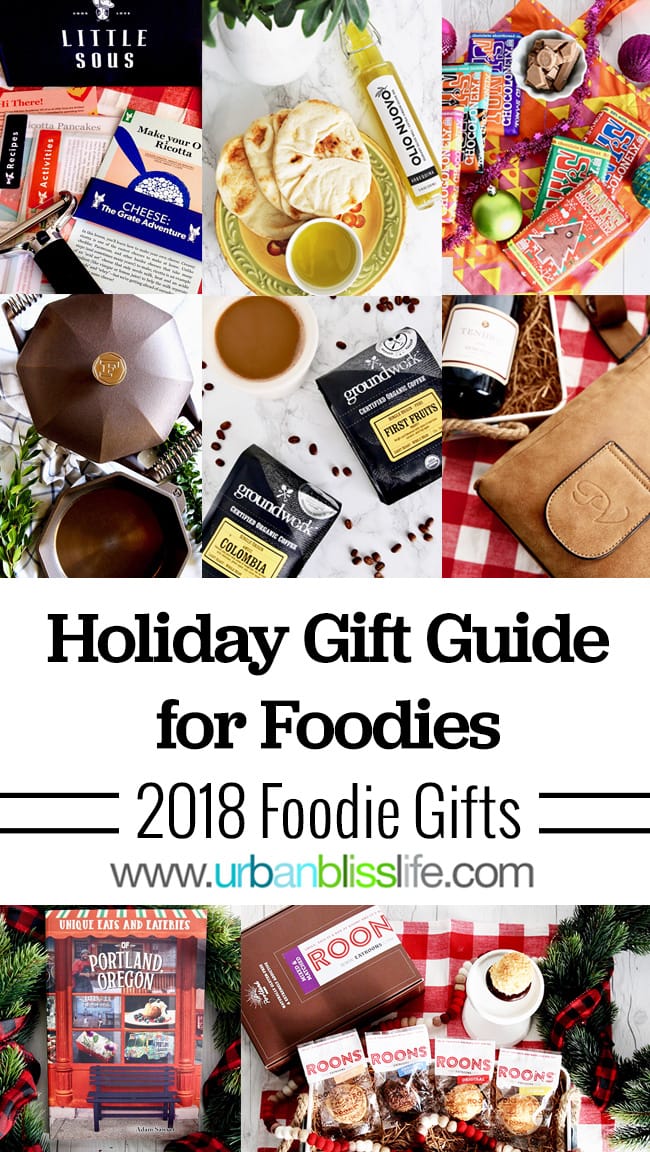 2018 Holiday Gift Guide for Foodies
Got a foodie or burgeoning foodie in your life that is on your holiday gift list this year? We're blessed with an abundance of food and beverage gifts these days, but sometimes, it can be tricky to weed through the countless options and decipher what's a really cool, useful, quality gift - and what's a dud that will collect dust on a shelf or join the gift receiver's next donation bin.
Personally, I don't like to waste money - or time. Instead of sharing a gift guide with dozens of so-so items, I've done the work for you and weeded out the duds to share eight super awesome, useful, high quality gifts foodies will truly LOVE.
This foodie loves them. And I think the foodie(s) in your life will, too!
PS: all of these items can be purchased online and shipped within the United States. Some offer international shipping, too.
FOR THE SERIOUS HOME COOK:
Finex Cookware Set: Dutch Oven + 10" Skillet ($$$$)
Quality cookware is essential for the home cook. I've personally been cooking with Finex Cookware for a few years now, and am constantly amazed at what a difference it makes in the food that comes out of my kitchen. Founded in Portland, Oregon in 2012, Finex is committed to crafting heirloom quality cast iron cookware.
I love the Finex pieces that I have: the 12" skillet, 10" skillet, grill pan, and I'm absolutely loving the newest addition to the Finex family: the 5-quart cast iron Dutch oven with lid. You can check out these beautiful pieces in action in my Tomato Basil Skillet Scramble recipe, S'Mores Skillet Cookie with Homemade Nutella recipe, and Grilled Hard Cider Pork Tenderloin with Apples and Sage recipe. Plus, I have a dutch oven recipe and a 10" skillet recipe coming very soon!
Any foodie or aspiring home cook would love to have the duo of the 5-quart dutch oven and the 10" skillet. It comes with a lid that fits over both!
These are the kind of heirloom cast iron pieces that you will be able to use over and over again (trust me: I have!) and then pass on to your kids. And maybe they will even be able to pass them on to their kids. I am so impressed by the quality of Finex Cookware products. They do an amazing job bringing out the flavors of the food cooked in them, and they're so easy to clean compared to my old cast irons.
Normally $475, this dynamic duo is on sale right now for $395.00. But even better: I'll be doing a giveaway on Instagram very soon!
GIVEAWAY ALERT: I am GIDDY with excitement to announce that I will be giving away this 5-Quart Dutch Oven With Lid + 10" Skillet Set soon on Instagram! Be sure to subscribe to my Urban Bliss Life emails (I promise to only send them sporadically!) as well as follow Urban Bliss Life on Instagram. You won't want to miss this yummy giveaway!
In the meantime, if you'd like to check these off your list sooner, you can find these products here:
Buy the Finex Cookware 10-inch cast iron skillet with lid on Amazon.com.
Buy the Finex Cookware 5-quart Dutch oven with lid on Amazon.com
FOR THE SERIOUS CHOCOLATE LOVER:
Tony's Chocolonely Holiday Gift Set ($)
If you have a foodie chocolate lover in your life, a few bars of Tony's Chocolonely in their stocking will be a real treat!
Based in Amsterdam with United States headquarters in Portland, Oregon, Tony's Chocolonely is artisan chocolate using creative and fun flavor combos. Plus: they are the only chocolate bar company committed to being made with 100% slave-free chocolate.
GIVEAWAY ALERT: I am excited to announce that I will be hosting a giveaway of Tony's Chocolonely products on Instagram very soon! Be sure to subscribe to my Urban Bliss Life emails (I promise to only send them sporadically!) as well as follow Urban Bliss Life on Instagram. You won't want to miss this yummy giveaway!
If you can't wait for the giveaway, you can buy Tony's Chocolonely online. Buy a 3-pack of Tony's Chocolonely bars (3 for $24.99) here, or the special Holiday Tony's Chocolonely Holiday Bar ($5.99) here.
FOR THE FOODIE HOME COOK:
Durant Olive Oil: Olio Nuovo ($$)
At the heart of so many wonderful dishes, is high quality olive oil. Many of my foodie friends swear by olive oil for cooking, as do I. They also encourage daily general consumption of olive oil for health benefits (served as a dip for bread, for example).
If you watch my Instagram stories, you'll see me cooking with Durant Olive Oil (formerly known as Oregon Olive Oil) often. It's milled nearby in Dundee, Oregon. This is absolutely the best olive oil I have ever tasted made in the United States.
Durant Olive Oil comes in many flavors, including my favorite: Basil Olive Oil ($22 for a 6.76 ounce bottle). The newest olive oil to join the product line is the 2018 Olio Nuovo ($18).
Buy the 2018 Durant Olive Mill Olio Nuovo here.
FOR THE COFFEE LOVER: Groundwork Coffee ($)
For the coffee loving foodie on your list, there are a large number of coffee-related gifts I could recommend. But Groundwork Coffee offers coffee gifts that not only taste amazing - but they are gifts that also give back.
Based in Venice Beach, California (with locations in Portland, Oregon and elsewhere in the US), Groundwork Coffee makes certified organic coffee and is committed to making positive social changes in the coffee industry. For instance, their AMUCC Columbia coffee pictured above is made with AMUCC coffee beans. AMUCC is a Fair Trade certified association of women in Cauca, Columbia empowering female coffee producers. The coffee is light and slightly tart, perfect for drinking throughout the day.
Another great coffee pick is the Single Origin First Fruits Project: Peru coffee ($18.95). The First Fruits Project features the first harvest from coffee farmers who have worked hard to become certified organic. The coffee pictured here is made from beans of the first harvest of wife and husband team Rosa Marta Dies and Isac Reina Torres.
Buy Groundwork Coffee online.
FOR THE WINE LOVER WHO HAS EVERYTHING:
Portovino Wine Messenger Bag ($$)
For the wine lover in your life, go beyond the gift of a fancy bottle of wine (but stay tuned for my Wine Gift Guide coming after Thanksgiving!). This PortoVino wine messenger bag is more than just a kitschy novelty gift: it's a gorgeous, fully functional daily work/commuter bag, too!
I have to admit: I was skeptical about this product. I fully expected the material to be less-than-high-quality, and the bag to be non-functional as anything other than a bag to hold your booze. Yet the messenger bag (pictured here in the Camel color option) is a really nice, beautiful, well-made messenger bag. The material is a soft vegan leather. I actually can't wait to use this for work! It fits my laptop, books, and has interior pockets for smaller items like your phone, pens, etc.
To use it as a wine purse: there's a pouch inside that you can fill with up to two 750ml bottles of wine. Seal it, then place it in the insulated compartment. When you're ready to drink your wine, simple push the spout through the opening in the back of the bag, and pour!
Of course, you can also use the pouch to hold water, beer, cocktail mixes – whatever your favorite beverage may be. You can purchase extra pouches separately. As a wine enthusiast, I know the fellow wine lover will adore this gift. Even if they don't use it to transport wine or other drinks, they'll love how beautiful the bag is on its own, and can bring it on their next wine tasting adventure!
Buy the PortoVino Messenger Bag ($89.95) online here.
FOR THE COOKIE LOVER: Roons ($$)
Cookies are classic foodie gifts for the holidays. If you have foodie friends who are gluten-free, it can be a challenge. Thankfully, there are more and more cookie companies like Portland-based Roons who are creating gluten-free and grain-free cookies that everyone will love.
Roons offers macaroon cookies that fit in the palm of your hand, piled high with coconut. They come in several different flavors: the Original, Lemon, Pumpkin Pie, and Chocolate Espresso. My personal fave is the Chocolate Espresso. It's so good, especially with a cup of coffee or a nice Oregon Pinot Noir.
I think your cookie loving foodie friends will love Roons because they not only taste delicious, but they look great too. The packaging is minimal and modern, with a touch of colorful fun. If your foodie friend is also always looking for Instagram-worthy food (and, let's face it, if they're not, are they a REAL foodie??), they'll love Roon!
Buy the Roons Mix-and-Match 9-Pack ($27) here.
FOR FAMILIES:
Little Sous Kitchen Academy Subscription Boxes ($)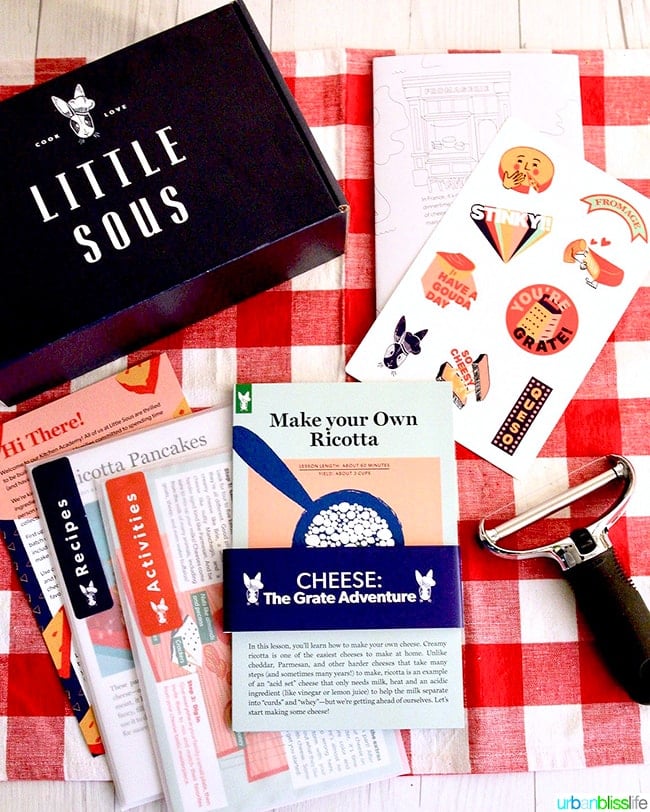 When my kids were younger, we spent a LOT of time in the kitchen together. I've always loved how cooking helps teach children more than just the act of cooking itself: you can incorporate geography, history, language lessons and more while whipping up some yummy food. Portland-based Little Sous helps parents do just that.
The Little Sous website is packed with helpful family cooking tips, family-friendly recipes, and their monthly Kitchen Academy subscription boxes. As a busy mom who loves to cook and bake, I find the subscription boxes to be an amazing value at $24.99/box. They contain gorgeous graphics that are appealing to both kids and adults, and so full of fun activities, recipes, and really interesting information you can learn with your kids.
Monthly subscription boxes start at $24.99/month, and include:
A high-quality, kid-friendly kitchen tool or non-perishable ingredient from top culinary brands
A step-by-step cooking lesson
Collectible recipe cards
Hands-on activities designed to make cooking techniques and food science fun
A ready-to-color poster that includes interactive games, puzzles and other activities
A sheet of vinyl stickers inspired by the monthly theme
I think that any family with young kids would adore a Little Sous subscription box as a holiday gift. With these, you are giving a physical gift that parents can enjoy with their kids. And, you are also gifting them the precious gift of time together.
Buy Little Sous Kitchen Academy Subscription Boxes.
FOR THE ADVENTUROUS FOODIE:
Unique Eats and Eateries of Portland
, Oregon
For the friend who loves to be in the know of the cool spots in town, pick up a copy of Adam Sawyer's book, Unique Eats and Eateries of Portland, Oregon ($20.95). Buy Unique Eats and Eateries of Portland, Oregon on Amazon.com.
Portland is definitely a foodie town. Many people travel to this quirky city just for the Portland food scene. But it's really the people behind the food who make the food scene in Portland even more special.
In this book, we learn not only where to eat and what to eat , but also the who and the why behind the food. While restaurant names may draw you in, it's Adam Sawyer's writing that keeps you hooked. He captivates your curiosity with well-woven tales of the unique histories and personalities of each place. I flipped it open to quickly check it out, but couldn't put it down. I read half of the book in one sitting!
Anyone who enjoys food and is in Portland, from Portland, or travels to Portland would enjoy this book! Buy Unique Eats and Eateries of Portland, Oregon online.
2018 Holiday Gift Guide for Foodies
I hope the foodies in your life (including YOU!) enjoy these fabulous gift ideas this holiday season! If you've got a wine lover or cocktail/mocktail enthusiast on your list, stay tuned for my 2018 Holiday Gift Guide: Wine + Cocktails, coming soon!
Meantime, here's a look back at some of my wine and beer holiday gift ideas.
Which foodie gifts featured in this Holiday Gift Guide for Foodies would you love to give - or receive?
Disclosure: Some of these products were received for the purpose of reviewing as possible gift guide products. Some were purchased on my own. These are products I do use and enjoy, and I think the foodie in your life will love these foodie gifts, too! As always, all opinions and photos are my own.