Looking for some new spring wines to try? From crisp white wines to luscious red blends, here's a look at some of my favorite wines for spring!
Living right on the edge of Oregon Wine Country, wine tasting is a part of daily life here.
We get together for lunch with friends at wineries, we meet up with other families for picnics and bocci ball or live music at wineries, our neighbors are winery presidents, tasting room managers, and winery marketers.
And being a wine blogger, I also receive a lot of different media samples when wineries have new releases. So there is always a LOT of potential wine news to share with you all.
That said, not every wine released is a winner, and you all know by now that I only share food, wine, and travel products on this blog that I truly would recommend. So I thought I would start to share a once-a-month or once-a-season list of my current picks for wines to try. Here's a look at some of my faves from the last couple of months!
10 Spring Wines to Try
Pike Road 2014 Pinot Noir ($19)
Knudsen Vineyards 2014 Chardonnay ($45)
Willamette Valley Vineyards 2014 Estate Pinot Noir ($30)
Willamette Valley Vineyards 2014 Estate Chardonnay ($30)
Willamette Valley Vineyards 2015 Estate Rosé of Pinot Noir ($24)
Snoqualmie 2013 Whistle Stop Red Blend ($10
Chateau Ste. Michelle Canoe Ridge Estate 2012 Cabernet Sauvignon ($36)
Unbroken 2012 Red Blend ($28)
L'Ecole 2014 Luminesce ($30)
Alexandra Nicole 2013 Quarry Butte Red ($25)
Pike Road 2014 Pinot Noir ($19)
Oregon is known for its gorgeous wine country, with rolling hills and gorgeous lush vineyards. Pike Road runs through the Yamhill-Carlton AVA out to the forests of the Oregon Coast Range. It's a beautiful drive through orchards, dairy farms, wheat fields, and symbolizes the spirit of Oregon farming for the Campbell Family, founders of Pike Road Wines.
Pike Road is the sister brand to Elk Cove Vineyards, founded by the Campbells in 1974 (which was a very good year, I might add!). This new winery released 9,000 cases of a 2014 Pike Road Pinot Noir and 8,000 cases of a 2015 Pike Road Pinot Gris this season, and I really enjoyed the Pinot Noir (for full disclosure, I have yet to open the Gris; so many wines, so little time!). It's made with 100% Willamette Valley AVA grapes, aged in French oak barrels for 10 months, and is a beautifully balanced pinot with bright fruit flavor. At just $19, it's perfect for bringing as a hostess gift to any party.
PAIRS WELL WITH: The Good Wife, late night snacking, all the chocolates
Knudsen Vineyards 2014 Chardonnay $45
Knudsen Vineyards is one of the oldest vineyards in the Dundee Hills of Oregon and produces some of the area's best grapes for sparkling wines (they've long had partnerships with Argyle, one of my favorite local sparkling wines). The 2014 Chardonnay is a blend of Dijon clones 76 an 95, which were planted in 1995, and is aged for 6 months in French oak (20% new). This vintage has a nice crisp acidity and is less oaky than the 2013.
PAIRS WELL WITH: spring gardening, VEEP (one of my favorite TV shows!), and Slow-Cooked Salmon and Spring Vegetables
Willamette Valley Vineyards 2014 Estate Pinot Noir $30
The next three selections are all new releases from Willamette Valley Vineyards. I hesitated before deciding to include all three, not because they are not worthy of recommendation, but because I don't want to seem too biased toward any particular vineyard. However, all three of these releases are spectacular, and I would be doing you all a disservice if I did NOT recommend them all!
We'll start with my personal fave of the three: the 2014 Willamette Valley Vineyards Estate Pinot Noir.
This is a delicious Pinot that really represents what Oregon Pinot Noir can be, in my opinion. It's medium-bodied and has a nice round richness to it – not too light, not too heavy.
PAIRS WELL WITH: everything, Game of Thrones, and days that end in "y"
2014 Willamette Valley Vineyards Estate Chardonnay $30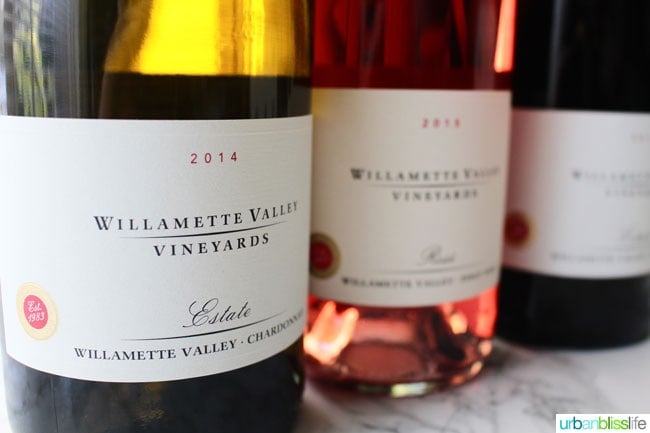 Confession time: I wanted to get shots of this beautiful Chardonnay in a glass so you could see the golden color, but someone (the only other of-age alcohol drinker in this house, ahem) drank ALL of the rest of it before I could take a photo of this gorgeous wine in a glass. So, a photo of the bottle will have to do. This is a balanced Chardonnay with bright acidity. It's fermented in 25% new French oak for 9 months, and while I enjoyed the sips I tried, my husband clearly enjoyed it even more! :)
PAIRS WELL WITH: spring vegetables, roast chicken, cobb salad
2015 Estate Rosé of Pinot Noir $24
Rosé is all the rage these days, and this is a lovely one to try if you are newer to modern rosé because I feel like it sums up what today's rosé wines are all about. Today's rosé is NOT your mama's ol' blush wine! This is an elegant dry wine with smooth, not-too-sweet flavors of strawberry and watermelon. Perfect for spring-to-summer sipping out on the front porch watching the sunset.
PAIRS WELL WITH: sunsets, a big chicken salad, or sushi.
Snoqualmie Whistle Stop Red $10
2013 Snoqualmie Whistle Stop Red Blend
Snoqualmie is Washington's largest certified organic vineyard, and they tend to produce approachable, affordable wines. You'll find these in most grocery stores or wine shops for under $12. Personally, I find Snoqualmie wines to be hit or miss, even within the same vintage. Yet the one that seems to be a consistently solid, enjoyable pour is the Snoqualmie Whistle Stop Red.
The 2013 Snoqualmie Whistle Stop Red Blend is made with 100% Columbia Valley grapes; 70% Cabernet and 30% Merlot. Its soft tannins sing of rich blackberries and currant.
PAIRS WELL WITH: any good Netflix binge night, a weeknight dinner of pasta, short ribs, or even fried chicken.
Chateau Ste. Michelle Canoe Ridge Estate 2012 Cabernet Sauvignon ($36)
The Horse Heaven Hills in eastern Washington State are known for producing really rich, bold, big red wines. The Canoe Ridge Estate 2012 Cabernet Sauvignon is an excellent representation of the best of the wines of this area. You get big red flavors with this wine, combined with subtle hints of spice and smooth, silky tannins. I really loved this wine.
PAIRS WELL WITH: The Blacklist (surely Reddington would approve), beef bourguignon, or really good dark chocolate (is there any other kind?)
Another excellent red wine from the Horse Heaven Hills is the 2012 Unbroken Blended Red. First, it must be said: I love the label. As a designer, I do judge a book by its cover and a wine by its label because that's the whole purpose of design: to give you a good idea of what to expect. Like the label, this is an unfussy, solid, reliable red wine. This is a nice weeknight drinking wine that's got sweet cherry cola aroma with rich flavors of blackberry and vanilla. Only 300 cases of this blend were produced.
PAIRS WELL WITH: Scandal (duh), a hearty chili or a big juicy burger.
L'Ecole Luminesce $30
Awarded 92 points by Wine Enthusiast magazine, this interesting white wine is one not to miss. Made with 60% Semillon and 40% Sauvignon Blanc, the 2014 Estate Grown Luminesce from L'Ecole in Washington state is a white Bordeaux blend. It's bursting with tropical fruit and honeysuckle flavors.
PAIRS WELL WITH: Almost any HGTV show, pad thai, mussels.
Alexandria Nicole 2013 Quarry Butte Red $25
This one grew on me. I liked it but didn't love it when I first opened the bottle, but the next night it tasted wonderful, so I decided to include it as the last of my 10 Wines to Try: Spring 2016 list. The vineyard site was actually slated to be a rock quarry before vines were planted and this blend of six different varietals was limited in release to only 1497 cases. Mostly made with Cabernet Sauvignon and Merlot, with small percentages of Cabernet Franc, Malbec, Syrah, and Petit Verdot, this red blend is a sultry little number with hints of spice and dark fruits with vanilla. It's velvety and smooth.
PAIRS WELL WITH: a big steak and potatoes meal, lasagna, or back-wrapped dates. Or be a rebel and enjoy it on its own, after downing a big pasta dish, as I did from the photo above.
Final thoughts on spring wines
There are of course many more wines that I love for spring that are not included, but I tried to include new releases and wines that I haven't covered as much here on the blog yet. I still have my favorite Oregon wineries that always have great wines, and you can review some of them in my Wine Bliss archives.
Of these wines, which sounds the most appealing to you? What new wines have you enjoyed recently?
PIN IT:
I received many of the bottles included above as media samples for review, along with many others that were not selected for publication. As always, all opinions and photos are my own. I only share food, drink, and travel products, experiences, and events that I enjoy and think you will, too!